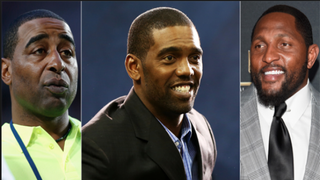 If the rumors are true, ESPN is getting rid of two Hall of Fame football commentators in Ray Lewis and Cris Carter and adding Carter's onetime teammate Randy Moss. 
According to the Big Lead, the network, which is already losing host Skip Bayless to Fox and Monday Night Football announcer Mike Tirico to NBC, is parting ways with Carter, who has worked with the network since 2008, and Lewis, who joined in 2013.
No official word has been released on why Carter and Lewis are being let go, but speculation is centered on comments Carter reportedly made in 2014 during a rookie symposium where the former NFL wide receiver told the incoming draft class to find a "fall guy" to take the blame for any trouble they might get into.
Lewis has never been a stranger to controversy. The outspoken Lewis, who has been a part of the Monday Night Countdown crew since he retired in 2013, once flashed his credit card on camera, noting that he would pay for any fines San Francisco 49ers linebacker Ahmad Brooks incurred after a hit on New Orleans quarterback Drew Brees.  
The Big Lead notes that in addition to Moss, ESPN has added recently retired players Matt Hasselbeck and Charles Woodson to its network roster.
Read more at the Big Lead.