In case you couldn't get a feel for it, George Zimmerman is a "psycho," or so his now-ex-girlfriend said, according to police documents, New York magazine reports.
Over the weekend Zimmerman, who was infamously acquitted in the shooting death of unarmed Florida teen Trayvon Martin, was arrested and charged with aggravated assault after he allegedly threw a wine bottle at the woman in question, the news site notes.
According to the report, the woman was "extremely emotional, crying, mad and upset" and called her ex "that psycho, George Zimmerman," voicing her regret for having gotten involved with him, the Associated Press reports. 
She said that Zimmerman got angry when she said she didn't want to take their relationship any further, and that they had argued over a painting she had that he wanted returned. She accused Zimmerman of making threats and throwing the wine bottle, which did not hit her.
"She indicated that this began at a time when she was emotionally vulnerable," the report said, according to AP.
G/O Media may get a commission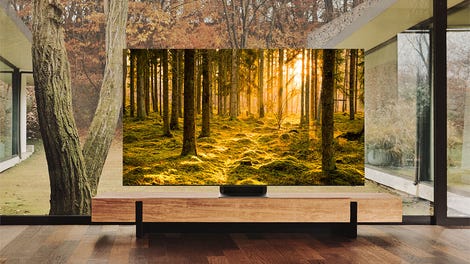 Up to 40% off
Samsung Smart TVs
This isn't the first time Zimmerman has been involved with the law because of a domestic dispute. Since being acquitted in 2013 in Trayvon's case, he has been arrested on charges of aggravated assault, battery and criminal mischief for allegedly pointing a gun at a then-girlfriend's face during an argument in which he reportedly destroyed a coffee table and kicked her out of the house they shared.
In the current case, according to AP, Zimmerman said that he did not throw the wine bottle and said that he was only trying to stop the woman from entering his home.
He has since been released on a $5,000 bond.
Read more at New York magazine and the Associated Press.