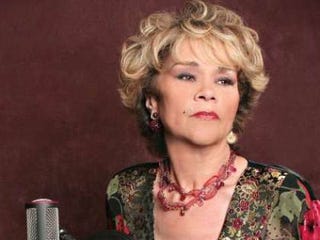 Very sad news about the health of legendary "At Last" and "Tell Mama" blues singer Etta James: We knew that her health wasn't good, but today her live-in-doctor, Elaine James, has announced that James' leukemia is incurable and has asked the public for prayers:
Elaine James says she's spreading word of the singer's ailments so people will pray for her. She says fans know Etta James has been sick "but not how sick."
Court records in the singer's probate case show she also suffers from dementia and kidney failure.
Elaine James made her comments outside a Riverside conservatorship hearing over the singer's $1 million estate. The singer's son, Donto James, wants a conservator rather than the singer's husband, Artis Mills.
Read more at the Washington Post.
Like The Root on Facebook. Follow us on Twitter.