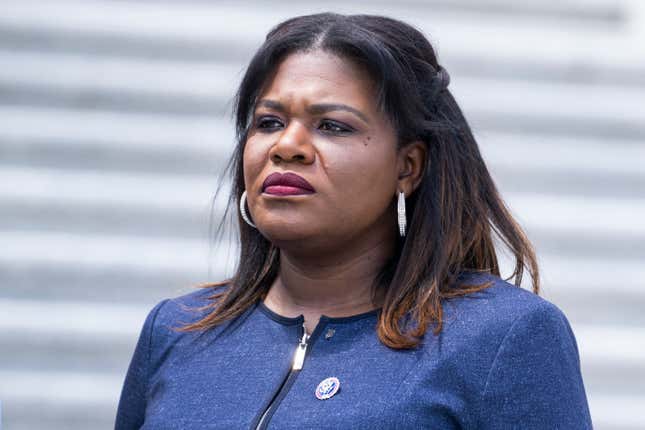 Republicans have had control of the House for less than a month. But they've wasted no time dismantling civil rights protections.
On Tuesday, House Republicans on the Oversight Committee disbanded the Subcommittee on Civil Rights and Civil Liberties, which investigated issues like white supremacy, voting rights, freedom of assembly, and criminal justice.
Representative Cori Bush (D-MO) did not mince words when discussing her Republican Colleagues on Friday.
"It looks like they are ending anything that has to do with civil rights across all across Congress," Rep. Bush told The Root. "White supremacy thrives in the United States Congress, and we're seeing it."
Most people have probably never heard of the Civil Rights and Civil Liberties Subcommittee. But until Republicans gutted it, it had played an important role in investigating topics like the role of White Supremacy in the January 6th insurrection.
Republicans have tried to claim that move was just for "efficiency" purposes and that these topics can still be brought-up if the committee wants to discuss them.
"Let me be very clear: any topic that's not mentioned in the subcommittee jurisdiction is reserved for the full committee," said Oversight Chairman James Comer (R-Ky.), according to the Hill. "We can have a committee hearing in this committee on basically anything we want."
But, Rep. Bush says that the decision to scrap the committee sends a clear signal.
"When you don't prioritize civil rights of people in this country, you send a very clear message," says Rep. Bush. "That the civil rights of people in this country are not important."
Bush says that Republican lawmakers likely paid no mind to the fact that Black Americans are still grieving the death of Tyre Nichols, who was killed by Memphis Police.
"The egregious acts that were inflicted on Tyre Nichols, they don't see that as something they should care about," says Rep. Bush. "They don't see that as something where there needs to be work, something that we need to overcome, and that they have a position in."