Four Alumni Reflect on Demise of Print Edition
In a 2009 edition of "Mormon Matters," which describes itself as a "weekly podcast exploring Mormon culture and current events," Jeff Breinholt recalled:
"The July 15, 1968 edition of Newsweek featured the cover story 'The Angry Black Athlete,' which stated:
" 'It is a mess that extends from Niagara to the University of California, from Michigan to the University of Texas at El Paso. Sometimes the racial issue is inflamed by a coach's get-tough policy. 'I could give in to a lot of Negro demands,' says one Southwestern track coach, 'and keep my team intact. But someone has to hold the line against these people.'
" 'At El Paso, track coach Wayne Vandenburg threatened to kick six athletes off the team if they joined the boycott of the New York Athletic Club indoor meet in February. The club was charged with discriminatory membership policies. Vandenburg won and the athletes competed. But two months later, after a talk with Harry Edwards, the same athletes refused to enter a meet at Brigham Young University in Utah because of Mormon doctrines about blacks. Vandenburg promptly dropped champion long-jumper Bob Beamon and five others from the squad.'
"Coach [Vandenburg] sued Newsweek for defamation and, though he won a jury verdict, it was ultimately reversed on appeal, based on the court's finding that the statements were not made with reckless disregard for the truth. The court credited as accurate the account of how, in April 1968, several black athletes at UTEP decided to boycott the BYU meet because, inter alia, of their understanding of Mormon beliefs concerning blacks. . . ."
The Newsweek story by the late Pete Axthelm set in motion a court case that established that a person who voluntarily thrusts himself into a public controversy was a public figure and thus must prove constitutional malice in order to win a libel suit.
It is also a reminder of an era when Newsweek was well-regarded for its coverage of racial issues.
G/O Media may get a commission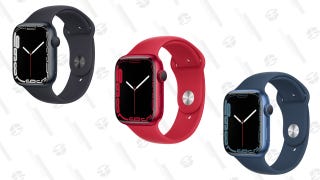 Up To $45 Off
Apple Watch Series 7
"One of the things I respected most about Newsweek was the sweep and depth and seriousness it applied to covering race," Lynette Clemetson, a former Newsweek correspondent, told Journal-isms. Clemetson now works at NPR, leading StateImpact, a local-national collaboration between NPR and station groups in eight states that reports on state government actions and their impact on citizens and communities.
Sylvester Monroe, another former Newsweek correspondent, said, "Newsweek gained the well-deserved reputation as the newsmagazine that would own the black civil rights story." Monroe is now a senior editor for public radio's "Marketplace" in Los Angeles.
Editor-in-Chief Tina Brown announced on Thursday. ". . . Newsweek will transition to an all-digital format in early 2013. As part of this transition, the last print edition in the United States will be our Dec. 31 issue."
Christine Haughney and David Carr added in the New York Times, "The transition, she wrote, would include layoffs, and at a staff meeting Thursday morning, she grew teary-eyed when she told employees that she didn't know how many people would be let go. The staff remaining will publish a digital magazine called Newsweek Global. Readers will continue to pay for Newsweek, Ms. Brown said, and some Newsweek articles will appear on The Daily Beast, which will continue as a free Web site. The end of the print edition will help stem Newsweek's estimated $40 million in annual losses."
The 80-year-old Newsweek was owned by the Washington Post Co. until the Post Co. sold it in 2010 for a dollar.
Clemetson, Monroe, Farai Chideya and Marcus Mabry shared their observations on the end of the Newsweek print edition. Chidea is the distinguished writer in residence at the Arthur L. Carter Journalism Institute at New York University. Mabry is editor at large of the International Herald Tribune and associate editor of the New York Times, based in London. He edits the blog of the IHT, www.ihtrendezvous.com.
Farai Chideya
I started in college as a reporting intern in the Boston Bureau under Mark Starr, one of the most generous men with his knowledge that I know. Among other things, he started the minority internship program that brought me in. I became a fact-checker in the business department (a dept then run by Mark Whitaker, now of CNN); wrote for back-of-the-book; and became a junior reporter based in Washington.
Newsweek — and oddly enough, fact-checking, which I didn't love but learned so much from — helped give me a grounding as a journalist. My fact checking abilities allowed me to write Don't Believe the Hype. DBTH got me a tv career.
I've been saddened and troubled by the shrinking word counts and sometimes dubious editorial choices at Newsweek of late (read: the Niall Ferguson cover ["Hit the Road, Barack: Why We Need a New President"). I hope that by going purely digital, they will find a new way to do excellent journalism. I wish them nothing but the best, even and especially in these hard times.
Lynette Clemetson
I started with Newsweek in 1996 in the Hong Kong bureau. I began as a stringer and then became a reporter on the Newsweek team that covered Hong Kong's 1997 handover from British to Chinese rule. I moved to Newsweek's Washington bureau in late 1998 as a national correspondent and was there until I joined the New York Times in 2002.
One of the things I respected most about Newsweek was the sweep and depth and seriousness it applied to covering race. Over many decades, Newsweek staked out important ground and illuminated, through serious voices and deep reporting, how the country was moving forward, or back, or in new and different directions on matters of race and identity. I felt so proud, in my years there, to be able to contribute to that particular thread in the magazine's history.
That authoritative, mission-driven attention to issues of race and ethnicity is one of the things that was lost when Newsweek transferred ownership. Certainly the influence of the traditional big cover story on race was changing before the magazine was sold. Fragmentation of the news business, years ago, made it much more difficult to drive a national conversation with single cover story. But the old Newsweek was still in the game of trying — and I always felt that they kept trying not simply because it was strategic, but because it was critically important to society.
Marcus Mabry
I grew up at Newsweek, from a college intern to chief of correspondents. I met President Mandela [Nelson Mandela of South Africa] and a young Obama because of Newsweek. It's a loss for us all, but it's one of those evolutionary losses that it does absolutely no good to lament. Instead, we must turn all our attention and creativity to figuring out how to make quality journalism economically viable in a changing technological landscape. That's what we need to spend our time doing.
Sylvester Monroe
Like a lot of folks, I was saddened by the end-of-an-era tone of the announcement about Newsweek. I cut my journalistic teeth in print at Newsweek and it's just a shame to see it fade away like this.
My first national news job was as a copy boy/messenger for Newsweek at the 1968 Democratic convention in Chicago. Watching the editors, writers and correspondents cover that momentous story as a 16-year-old whetted my ambition to become a journalist. I got a summer internship in the Newsweek Chicago bureau between my sophomore and junior years at Harvard and another the next summer. Then, Newsweek gave me my first job as a correspondent in the Boston bureau. I was 21 and started one week after graduation. I spent almost 16 years at the magazine on assignments in Boston, Chicago and Washington. I was the third African American bureau chief after John Dotson and Vern Smith and the magazine's first African American White House correspondent.
I covered both of Jesse Jackson's presidential campaigns in 1984 and 1988 and the election of Harold Washington as Chicago's first black mayor. But perhaps the signature story of my career was the 1987 cover story "Brothers," about 11 guys that I grew up with in the Robert Taylor Homes. The story catapulted my career as a national journalist and helped solidify Newsweek's cutting edge leadership in long-form journalism. Under the leadership of editors Osborne Elliott and Maynard Parker in particular, Newsweek gained the well-deserved reputation as the newsmagazine that would own the black civil rights story, starting with "The Negro in America: What Must be Done" in 1967. "Brothers" continued that tradition. Both were shepherded by the legendary Newsweek senior editor and head of special projects Peter Goldman, who became a mentor and great friend.
In fact, the thing that I have missed most about Newsweek's demise, beyond the lifelong relationships with some of the best journalists anywhere, is the end of long-form journalism. As Jesse Jackson liked to say, "the future is pregnant with possibility" for Newsweek Global and the rest of print journalism as media companies seek to transform a dollar of revenue from the printed page to a dollar on the Internet.
But I don't believe we will ever again see the level of commitment to long-form journalism that we enjoyed during the golden age of the newsmagazines. I was extremely lucky to have come of age as a journalist during those times. I am deeply saddened to think that we may never see the likes of it again.
Emma Bazilian, adweek.com: After Newsweek, Is Writing on Wall for Newsweeklies?
Dylan Byers, Politico: Turning the page on Tina Brown
Stuart Elliott, New York Times: Media Agency Leaders Respond to Newsweek Decision
David Folkenflik, NPR: After 80 Years In Print, 'Newsweek' To Go All Digital
Peter Kafka, allthingsd.com:  Newsweek's Web-Only Future: Inevitable, and a Whole Lot Smaller
Andrew Lih, Online Journalism Review: If Newsweek wants to survive, it should learn from its peers
Ryan Nakashima, Boston Globe: Newsweek had unique troubles as industry recovers
Chris O'Shea, FishbowlNY: What People Are Saying About Newsweek Ending Print Edition
Rem Rieder, American Journalism Review: The Buzz Stops Here
Ed Sherman, the Sherman Report: How much longer will new Sports Illustrated editor actually put out a magazine?
Washington Post: Newsweek covers through the years
Joseph B. White, Wall Street Journal: Tina Brown: Time to "Embrace Our Future."
Black, Spanish Networks Didn't Broadcast Debate
The Spanish-language networks declined to broadcast live Tuesday's presidential debate, but Univision and CNN en Español say they will do so for Monday's matchup on foreign policy issues. NBC-owned Telemundo, which aired a novela during Tuesday's debate, did not respond to a request for comment.
Black-oriented networks BET and TV One also did not broadcast Tuesday's debate live — BET streamed the event on its website — and say they will follow the same course on Monday.
On Tuesday, Univision aired 2014 World Cup-qualifying soccer matches, Mexico vs. El Salvador on Univision and U.S. vs. Guatemala on TeleFutura.
"We will be airing the Monday debate live," Univision spokeswoman Monica Talan told Journal-isms by email. "For the past debate, we streamed it live, hosted social engagement elements (including Google+) and aired it at midnight."
A news release added, "Prior to the candidates' face-off, Univision News will present a Spanish-language pre-debate show available live on YouTube Elections Hub and Google+ Hangout, with Noticiero Univision correspondent Lourdes del Rio LIVE from Boca Raton, debate specialist Javier Maza and political analysts Helen Aguirre (Republican) and Fabian Núñez (Democrat). The discussion will be moderated by Enrique Acevedo, co-anchor of Univision's late evening newscast, 'Noticiero Univision Edición Nocturna.' Political reporter Luis Mejid and KMEX Univision 34 news anchor Leon Krauze will participate in the Google+ Hangout.
"Immediately following the 90-minute broadcast, Noticiero Univision anchor Jorge Ramos will host a special half hour live post-debate program featuring del Rio, Maza, and both Aguirre and Núñez, who will discuss the candidates' performance and what voters can expect during the last phase of the presidential campaign. In addition, Univision News political reporter Jordan Fabian will present post-debate reaction and highlights after the special."
Isabel Bucaram, a spokeswoman for CNN en Español, confirmed that her network aired Major League Baseball while its sister CNN networks aired the debate. Bucaram said by email that "Audiences watching the U.S. feed of CNN en Español got updates and News Briefs on the debate throughout the MLB game. They were also directed to www.cnnespanol.com to give them the opportunity to watch the entire debate online (for free) while the game was on CNN en Español's U.S. feed. Our viewers were able to interact with CNN en Español through the web, Twitter, Facebook and iReports."
Luis Defrank, a spokesman for BET, said by email, "We live streamed the debate on BET.com/Vote2012 as well as published posts that featured debate commentary from a Democrat and Republican. We posted a walk-up to the debate on the issues discussed, a picture gallery on [Twitter] and a gallery on the top meme — Women in Binders — that emerged from the debate. Lastly we posted a video debrief of the debate. All of these elements live on our BET.com/Vote2012. We are planning the same type of coverage on Monday."
Candace Johnson, a spokeswoman for TV One said by email, ". . . no we are not doing coverage of the debates, however the release announcing the TV One election coverage will be coming out in the near future."
Perry Bacon Jr., theGrio.com: Why you should stop obsessing over the polls


Michael Calderone, Huffington Post: Third-Party Debate To Be Broadcast By Al Jazeera English, RT America, But Not Major Cable News Networks


James Clingman, Washington Informer: Blackonomics: Ignored and Taken For Granted


Ta-Nehisi Coates blog, the Atlantic: The Burden of a Black President


Michael Cottman, blackamericaweb.com: ANALYSIS: Get Ready For Round Three


S.E. Cupp, Daily News, New York: Obama's struggles with white voters: Racism has nothing to do with it


Eric Deggans, Tampa Bay (Fla.) Times: Jon Stewart lets President Obama sidestep his toughest questions on The Daily Show 


Editorial, Salt Lake Tribune: Obama has earned another term
Marisa Guthrie, Hollywood Reporter: At 50 Years Old, How Univision Owns the Hispanic Audience
Rick Horowitz, YouTube: Binders Full of Women! (video)
Derrick Z. Jackson, Boston Globe: A reinvigorated Obama in N.H.
Annette John-Hall, Philadelphia Inquirer: Locating the line between ignorance and racism
Merrill Knox, TVNewser: Obama on Matthews: 'Four years ago, I gave him a thrill up his leg. This time around, I gave him a stroke'
Paul Krugman, New York Times: Small-Time Mitt
Latina Lista: 3 reasons why Romney's opposition to undocumented immigrants threatens the future of the country
Roland S. Martin, Creators Syndicate: Rev. Billy Graham and His Narrow Biblical Principles
John McWhorter, Daily News, New York: The pure sport of the debates
Kimberly Nordyke, Aaron Couch, Hollywood Reporter: CNN Exec Puts Positive Spin on Candy Crowley Amid Conservative Criticism
Tony Norman, Pittsburgh Post-Gazette: Romney son's anti-Obama vent is no hit
Pew Center for the People & the Press: On Eve of Foreign Debate, Growing Pessimism about Arab Spring Aftermath
Ishmael Reed, Counterpunch: Obama v. Romney Rematch: Louis v. Schmeling 2? (Oct. 16, second item)
Rochelle Riley, Detroit Free Press: 'Binders full of women' remark shows Romney's patronizing attitude
Geraldo Rivera, Fox News Latino: 'Self-Deportation Gives me the Chills'
Eugene Robinson, Washington Post: Why the chill on climate change?
Sheryl Huggins Salomon, theRoot.com: Will BET Viewers 'Show Up' for Obama Doc?
Mary Sanchez, Kansas City Star: Romney's case to women fails to convince
Jamal Simmons, U.S. News: Obama Won the Rock 'Em Sock 'Em Debate
Jennifer Vanasco, Columbia Journalism Review: Covering the candidates on women
Dr. Boyce Watkins, blackbluedog.com: BET's President Explains Why She Doesn't Offer More Positive Programming
NAHJ Votes to Join SPJ-RTDNA Convention
The board of the National Association of Hispanic Journalists voted unanimously Friday to hold its 2013 convention in Anaheim, Calif., joining the Radio Television Digital News Association and the Society of Professional Journalists there.
RTDNA and SPJ must approve NAHJ's participation, but Sonny Albarado of the Arkansas Democrat-Gazette, the SPJ president, told Journal-isms by telephone that he supported the move. However, he said, "We have not discussed it as a board."
Albarado said the two joint RTDNA-SPJ conventions in 2011 and 2012 had drawn an average of 1,100 or 1,200 people. Hugo Balta, NAHJ president, said by telephone, "we're looking at attracting better than 500" NAHJ members.
Kevin Benz, past RTDNA chairman and association secretary, could not be reached for comment. Balta said that at the NAHJ gala at the Unity convention in August, he and Benz discussed the idea of NAHJ joining the other two groups.
NAHJ is the last of the journalist of color associations to choose its convention site for 2013. At its last independent convention, in Orlando in 2011, Russell Contreras, then the chief financial officer, declared, "This convention here is our last stand-alone convention." He cited the cost savings in holding joint meetings with other groups. At its board meeting this month, Unity Journalists, the coalition of NAHJ, the Asian American Journalists Association, the Native American Journalists Association and the National Lesbian & Gay Journalists Association, decided to establish a task force to examine the feasibility of holding Unity conventions every two years, rather than every four.
The National Association of Black Journalists is holding its 2013 convention in Orlando, AAJA plans to be in New York, NAJA has chosen Phoenix and NLGJA will be in Boston.
The NAHJ board, which conducted a conference call, also considered partnering with CCNMA: Latino Journalists of California in Los Angeles, having a stand-alone meeting in Albuquerque, N.M., or having no convention.
The board voted to add Bonnie Gonzalez, a reporter for the Time Warner Cable station in Austin, Texas, which brands itself as Your News Now. Gonzalez will fill the vacant seat representing Arkansas, Louisiana, Oklahoma and Texas.
AP Clarifies: "Illegal Immigrant" Is Not the Only Term
"The first thing to note is that 'illegal immigrant' is not the only term we use, Tom Kent, AP's deputy managing editor for standards and production, wrote Friday in "Close to the News," a staff newsletter. "The Stylebook entry on this subject was modified a year ago to make clear that other wording is always acceptable,  including 'living in the country without legal
permission.'
"In fact, there are cases where 'illegal immigrant' doesn't work at all. For instance, if a young man was brought into the country by parents who entered illegally, he didn't consciously commit any act of 'immigration' himself. It's best to describe such a person as living in the country without legal permission, and then explain his story.
"There are also cases where a person's right to be in the country is currently in legal dispute; in such a case, we can't yet say the person is here illegally.
"But what about the cases where we do write 'illegal immigrants'? Why not say 'undocumented immigrants' or 'unauthorized immigrants,' as some advocates would have it?
"To us, these terms obscure the essential fact that such people are here in violation of the law. It's simply a legal reality.
"Terms like 'undocumented' and 'unauthorized' can make a person's illegal presence in the country appear to be a matter of minor paperwork. Many illegal immigrants aren't 'undocumented' at all; they may have a birth certificate and passport from their home country, plus a U.S. driver's license, Social Security card or school ID. What they lack is the fundamental right to be in the United States.
"Without that right, their presence is illegal. Some say the word is inaccurate, because depending on the situation, they may be violating only civil, not criminal law. But both are laws, and violating any law is an illegal act (we do not say 'criminal immigrant').
"Finally, there's the concern that 'illegal immigrant' offends a person's dignity by suggesting his very existence is illegal. We don't read the term this way. We refer routinely to illegal loggers, illegal miners, illegal vendors and so forth. Our language simply means that a person is logging, mining, selling, etc., in violation of the law — just as illegal immigrants have immigrated in violation of the law. (Precisely to respect the dignity of people in this situation, the Stylebook warns against such terms as 'illegal alien,' 'an illegal' or 'illegals.'). . ."
ColorLines, a social advocacy magazine, last year launched a 'Drop the I-Word' campaign, and the National Association of Hispanic Journalists has long urged media outlets to refrain from the use of "illegals" and "illegal immigrants" in favor of "undocumented."
Sasha Horne, RIA Novosti: 'Undocumented' or 'Illegal'? Immigration Syntax Is Hot Political Issue
Mallary Jean Tenore, Poynter Institute: AP memo clarifies how to use the phrase 'illegal immigrant'
Taliban Threaten Media Over Coverage of Teen
"Journalists, like many others in Pakistan, have spoken out strongly since the Taliban attempted to kill the teenage Malala Yousafzai on October 9," Sumit Galhotra and Bob Dietz wrote Wednesday for the Committee to Protect Journalists.
"The Taliban, in return, are threatening the media over their coverage, according to journalists and news reports. " 'Media houses, tv anchors and some well-known journalists are under serious threat,' one of our colleagues messaged. 'I understand that some intelligence reports had also intercepted telephone calls to them. The threats are coming in Swat, Peshawar, Islamabad, Lahore, and Karachi. The situation got [worse] after media coverage of Malala Yousafzai's case which made the extremists quite angry.' . . . "
Yousafzai has been able to stand for the first time since the attack and is communicating by writing, a British hospital official said Friday, Henry Chu reported for the Los Angeles Times. Malala was flown to Birmingham, England, from Pakistan this week for specialized treatment.
Listening Post, Al Jazeera: The gun and the press in Pakistan
Clarence Page, Chicago Tribune: Brave teen, cowardly Taliban
Ahmed Rashid, New Yorker: Can Malala Bring Peace to Pakistan and Afghanistan?
Mary Sanchez, Kansas City Star: An unlikely hero stands up to the Taliban
Laura Washington, Chicago Sun-Times: Reporter Lara Logan brings ominous news from Middle East
Puerto Rico Enthralled by Cheeky Newscast Puppet
"No one is safe from the crosshairs of La Comay," Danica Coto wrote Friday from San Juan, Puerto Rico, for the Associated Press.
"This five-foot-tall character with a foam head painted with outrageous red lips, a shrill voice and a penchant for salacious details rules Puerto Rico's gossip circuit, with legions tuning into her show every afternoon ready for the latest bombshell. La Comay dishes it out with ominous music playing in the background, talking about everyone from Mexican crooner Luis Miguel to Puerto Rico's own Miss Universe beauty queen Zuleyka Rivera.
". . . The program has been derided for being over-the-top sensationalist and for broadcasting derogatory comments against women and gays, but 'Super Xclusivo' remains the main news source for thousands in the U.S. territory and hundreds of Puerto Ricans in Florida and New York. The island comes to a stop every afternoon to watch La Comay not only talk small-town gossip but also expose government and business corruption scandals. . . ."
Washington City Paper to Call NFL Team "Pigskins"
"Meet your new football team, D.C.: the Washington Pigskins," Mike Madden wrote Thursday for the Washington City Paper, an alternative weekly. "That's the name Washington City Paper will use from now on to refer to the folks in burgundy and gold who play at FedEx Field, instead of the name the team prefers, which is a pejorative term for Native Americans.
"Over the last week, 1,125 of you voted on which of five names we should go with, and Pigskins — a.k.a. Hogs, in a tribute to the team's great offensive line of the first Joe Gibbs era — stiff-armed the competition like John Riggins did to Don McNeal in Super Bowl XVII. The name won 50 percent of the vote. Washington Monuments came in a distant second, with 16 percent; Washington Bammas got 13 percent, Washington Half-Smokes, 11 percent, and Washington Washingtons 10 percent. . . . "
"The inaugural results of a new Gallup question — posed to more than 120,000 U.S. adults thus far — shows that 3.4% say 'yes' when asked if they identify as lesbian, gay, bisexual, or transgender," Gary J. Gates and Frank Newport reported Thursday for the Gallup organization. ". . . Nonwhites are more likely than white segments of the U.S. population to identify as LGBT. The survey results show that 4.6% of African-Americans identify as LGBT, along with 4.0% of Hispanics and 4.3% of Asians. The disproportionately higher representation of LGBT status among nonwhite population segments corresponds to the slightly below-average 3.2% of white Americans who identified as LGBT."
Dinesh D'Souza, a conservative scholar behind a high-grossing film that condemns President Obama, resigned as president of The King's College, an evangelical college in New York, Rachel Zoll reported Friday for the Associated Press. "The evangelical magazine WORLD reported he was engaged to one woman while still married to another."
Sherlon Christie, a sports reporter for the Asbury Park (N.J.) Press, was named Region I director of the National Association of Black Journalists, NABJ announced Friday. Mara Schiavocampo, correspondent for NBC News in New York, stepped down "due to a variety of commitments," the association said. Region I covers the Northeast.
Weekend anchor-reporter Kimberly Holmes Wiggins of WXIX-TV in Cincinnati is going to Orlando Fox affiliate WOFL-TV, John Kiesewetter wrote Thursday for the Cincinnati Enquirer. Wiggins was on medical leave most of September.
What's the difference between a columnist and a blogger? Steve Buttry, digital transformation editor for Digital First Media, proposes a list of differences and adds, ". . . One of the biggest disappointments of my career was not getting a columnist job when I was in Omaha. I wanted it desperately and thought it would have been a great fit both ways. In retrospect, I'm glad and relieved that didn't work out. It might have pigeonholed me, where my blog helped boost my career and elevate my profile in a way that an Omaha column never could have."
"You've seen HBO's 'The Black List' and 'The Latino List"  — here's The Morgan List," Jerry Bembry, a sports journalist who is now a lecturer in communications studies at Morgan State University, wrote on Facebook. "This started out with an assignment I gave to one of my classes: get in front of the camera, and tell your story. Their stories were so fascinating that I decided to launch a web site. We're going to add videos each week, and now the students are fully involved — from capturing the video and audio, to the editing and even the creation of the logo."
Michel Martin of NPR is to be presented the National Lesbian & Gay Journalists Association's Randy Shilts Award for LGBT Coverage. "The award honors journalists who consistently bring the stories of the lesbian, gay, bisexual and transgender community to life in mainstream media outlets," the association said Thursday. Martin ". . . has consistently gone beyond the headlines to ask the deeper questions — from whether gay marriage will lead to legal polygamy to how gays and lesbians are reshaping African American and Latino activism."
"There are numerous anecdotes recounted in the HBO documentary 'Ethel' that illuminate the seldom-discussed personal lives of Ethel Kennedy and her late husband Robert Kennedy, but two memories are particularly noteworthy for underscoring his long-held commitment to racial equality," Cherie Saunders wrote Wednesday for EURweb.com. One involves Dr. Ralph Bunche, who in 1950 had become the first person of color to win the Nobel Peace Prize. The other came in 1963, when RFK "sent his Deputy Attorney General Nicholas Katzenbach to the University of Alabama to persuade Gov. George Wallace to literally remove himself from the schoolhouse door and allow African American students James Hood and Vivian Malone to enroll."
Goldie Taylor, a former editor for theGrio.com, has become a social critic and political contributor for MSNBC, an NBC spokeswoman confirmed on Saturday.
"Reporters Without Borders calls for the creation of an independent commission of enquiry into revelations that Trinidad Guardian reporter Anika Gumbs-Sandiford's confidential phone records were illegally passed to a government agency," the press freedom group said on Thursday. "The media freedom organization is also concerned about the effect of a smear operation against certain journalists and the government's desire to force the privately-owned broadcast media to carry official announcements free of charge as in some Latin America countries, where they are called 'cadenas.' "
"The International Press Institute (IPI) today warmly congratulated Grenada on becoming the first Caribbean state to decriminalise defamation, but urged the Grenadian government to further abolish seditious libel," the institute said Thursday. ". . . The move came amid lobbying by IPI and the Association of Caribbean MediaWorkers (ACM), an IPI strategic partner. IPI and the ACM launched a campaign early this year to abolish criminal libel laws across the Caribbean . . . "
Follow Richard Prince on Twitter.
Facebook users: "Like" "Richard Prince's Journal-isms" on Facebook.
Journal-isms is published on the site of the Maynard Institute for Journalism Education (www.mije.org). Reprinted on The Root by permission.