Within two minutes of the video for his single "Run It!" Chris Brown hit a to-the-floor half-split that would make James Brown proud. On that same song, Chris Brown made it clear in his lyrics that he was wise beyond his ears: "I'll have you thinking I can't be 16," he warned in the first verse. Indeed, Brown was the first in years to come into the game at such a young age and garner immediate respect as a vocalist and particularly as a skilled dancer, as well as rack up screaming fans as a teen heartthrob. The album would eventually sell over 2 million copies and cement Brown's spot in the musical R&B pantheon. But then Brown's personal life made a hard left, and his career output has never had the freewheeling spirit and promise of his debut.
Everything you need to know about: Chris Brown's debut album, Chris Brown.
Pretest No. 1: This fellow Virginia native, enjoying his own brand-new musical success, makes a cameo appearance in the video for Brown's second single, "Yo (Excuse Me Miss)."*
Pretest No. 2: Which former child star (and his producer Svengali) appeared on the remix of Brown's first single?**
Background research: After moving to New York City to pursue a musical career at the tender age of 13, Brown was signed at age 15 to Jive Records and immediately began recording his debut. With songwriting and production from heavyweights like Scott Storch, known for his work with Beyoncé, Nas and P!nk, Brown had a smooth path to stardom. His singles were teen-friendly while still sonically mature enough to gain traction across airplay and video outlets.
G/O Media may get a commission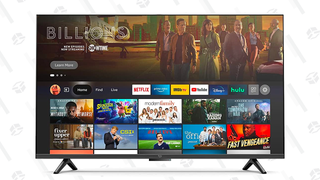 22% off
Amazon Fire TV - 50" Omni Series 4K - Early Access Deal
But even in 2005, if you looked close, there was a mischievous bad-boy twinkle in Brown's eye. He was clearly not as polished as others who came into the game as teens; he didn't have the drill-sergeant dad that Beyoncé had to guide her, and he didn't have the strict "momager" that artists like Bow Wow had to keep them sanitized and media-friendly.   
Why Chris Brown matters: Ultimately, the release of Brown's debut album begins the saga of a cautionary tale. The 2005 baby-faced crooner (then rocking just two modest tattoos) faced what so many of his predecessors had to deal with: How do you grow? How do you become a man, make mistakes in the public eye, make sure your audience grows with you musically and remain relevant? Brown seemed on track to follow Usher's example, but that all came to a halt in 2009 when he was charged with felony assault against then-girlfriend Rihanna. While he would continue to release relatively well-received music, his career would never gain the sure footing he presented on this debut.
As one relistens to the album and watches the sheer genius of his footwork in his early videos, it's sad to think that his career and persona would take such a dive. 
Homework: Check out the dance sequence for the video "Yo (Excuse Me Miss)." Clearly an homage to Usher's video for 2001's "U Don't Have to Call," it showcases just how talented Brown was as a dancer from day one. It's considered almost sacrilegious to compare anyone to Michael Jackson when it comes to razor-sharp dance moves. But in his early years, Brown could easily have made a claim.
The essential three-song playlist: Don't want to commit to revisiting the entire album? Just cue up the first two singles and then cap it off with the languid ballad "Say Goodbye." When it comes to Brown, checking out the videos is just as essential. Be prepared to wistfully mourn what could have been when you check out the talent this young man genuinely presented before his tumultuous personal life caught up with him.
In related news: Over Thanksgiving weekend, Brown released 30-plus tracks on a new mixtape titled Before the Party. His seventh studio album, Royalty (named after his infant daughter), drops later this month.
* Pretest No. 1: Trey Songz' debut album was released just four months before Brown's. Having traveled in similar musical circles before signing record deals, the two singers became friendly and frequently worked together, most recently on their joint Between the Sheets tour earlier this year.   
** Pretest No. 2: Bow Wow (now known as Shad Moss) knows a little something about child stardom. At 13 his own debut album was certified double platinum. He and Jermaine Dupri make an appearance on the remix to Brown's first single. 
Aliya S. King, a native of East Orange, N.J., is the author of two novels and three nonfiction books, including the New York Times best-seller Keep the Faith, written with recording artist Faith Evans. She lives with her husband and two daughters in New Jersey. Find her on Twitter and at aliyasking.com.