The remains of a Tuskegee Airman who went missing in combat more than 70 years ago may have finally been found. The Defense POW/MIA Accounting Agency, or DPAA, believes that it may have found the remains of Capt. Lawrence E. Dickson, a fighter pilot who was just 24 when his plane went down. If the DPAA is correct, Dickson may be the first missing Tuskegee Airman recovered since World War II ended in 1945.
As the Washington Post reports, Dickson's P-51 Mustang plane crashed two days before Christmas in 1944 while on a mission toward Prague, which was then occupied by the Nazis. It was originally believed that Dickson's plane, which had experienced engine trouble shortly before going down, crashed in Italy. However, the newly discovered crash site is just a few miles away, over the Austrian border, and the debris at the site matches that of Dickson's plane.
"German records report a lone P-51 crash there the same day Dickson disappeared," the Post writes.
"Historically, the site is a match," Joshua Frank, a DPAA research analyst, told the paper. Frank added that a total of 27 Tuskegee Airmen remain missing from the war.
"Capt. Dickson is one of those," said Frank. "If his remains are identified, he would be the first of the 27."
G/O Media may get a commission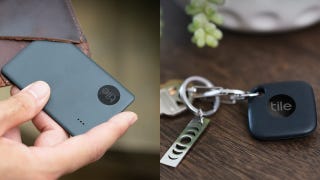 Up to 35% off
Tile Item Trackers
The Tuskegee Airmen, named for the Tuskegee Army Air Field in Alabama, were the first first black military aviators in the U.S. Army Air Corps. Their heroism during World War II—and their struggle for equality upon their return back to their homes—has been well-documented. The segregated unit was also known as the "Red Tails" for the distinctive red color on the tail section of their planes.
Dickson, who had already been awarded a Distinguished Flying Cross for meritorious service, was on his 68th mission, just two away from being able to return home to his wife and 2-year-old daughter. (His wingman, Robert L. Martin, in a 1997 letter, noted that white pilots needed only 50 missions before they could return home.)
When the war ended with still no news of her missing husband, Phyllis Dickson wrote the War Department begging for information. She still hoped that he was alive.
"I can't even sleep for thinking about him being sick somewhere & not having anyone to care for him properly," she wrote in 1945, according to the Post.
She died on Dec. 28 at the age of 96. Now her daughter, Marla Andrews, who never knew her heroic fighter-pilot father, hopes she'll live long enough to see the case of her missing father resolved.
"At this age, I'm supposed to know that you roll with the punches," the 75-year-old Andrews told the Post. "You take it as it comes."