When you consider being in a relationship with someone and you think of the expectations you have for that relationship, what do you base them on? Do you look to other couples whom you admire for inspiration or are your expectations grounded in what you know about your potential partner?

On any given day, you can find the hashtag #RelationshipGoals under social media posts of both celebrity couples and everyday people alike. The romantic in us loves love, and seeing images that reflect relationship ideals can be inspiring for all of us, but is it realistic to believe that all "perfect" looks the same?
What's perfect to you may be far from perfect for someone else and vice versa, so it's important to keep that in mind. It's also important to be mindful that when viewing what people choose to share on social media, we are seeing only what they want us to see.
There is so much more to relationships than what people choose to share publicly. The ugly parts—the hard parts—are often hidden from view, and what we are presented with are images that leave us feeling as if we are missing out. We are left to question why their lives are great and ours aren't. It is deceptive, but it is a deception that we all willingly participate in because we love the idea of perfect love.
This is why, when something bad happens with a couple everyone thinks is picture-perfect, we are all personally rocked to our cores. How could this happen to them? They looked so happy.
G/O Media may get a commission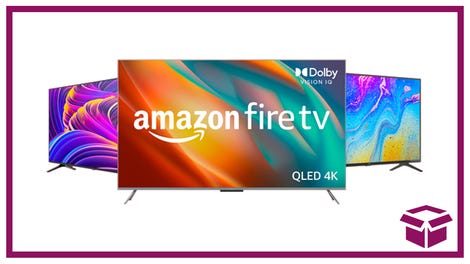 Ooh. stunning.
New Amazon Fire TVs
A perfect example of this is Beyoncé and Jay-Z.
We lived for images of them out and about, on vacation, enjoying their lives as a happy couple with their baby girl Blue Ivy. They were #RelationshipGoals for real, so when the infamous elevator video leaked, it broke the internet, our hearts and the rose-colored glasses through which we viewed their relationship.
Then Beyoncé released Lemonade, and we were given a different picture of their relationship—one under which #RelationshipGoals no longer fit.
What do you mean, he was unfaithful? What do you mean, she had moments of insecurity?
And if all these bad things can happen to Beyoncé in her relationship, what does that say for the rest of us and our relationship hopes and dreams?
And this is why I say that #RelationshipGoals creates an unrealistic expectation of picture-perfectness.
Perfection is in the eye of the beholders. What works for Beyoncé and Jigga—and what doesn't work for them—is not the same as what will or will not work for you and yours. It's all subjective.
While it's fun to look at these pictures of seeming perfection, it's important to remember that what we create and build with those we love is entirely individual and personal. It cannot be molded by anyone but us.
Although there may be aspects of other relationships that we admire, we cannot rely too heavily on those images when building our own happiness. That can lead to feelings of inadequacy and not measuring up.
We are our own barometers for what happy looks like for us. We should measure ourselves only against the goals that matter to us and no one else. We should build our relationships based on the things that are important to us and our partners. Nothing else matters.
Ultimately, we should be our own #RelationshipGoals—built according to our own definition.
We will be discussing #RelationshipGoals on our next The Root After Dark Twitter chat, Thursday at 11 p.m. ET/8 p.m. PT. I will take over  The Root's official Twitter account as always, and we will chop it up. Be sure to follow The Root on Twitter and be a part of the discussion using the hashtag #TheRootAfterDark.