When saxophonist Joshua Redman arrived on the jazz scene 18 years ago, it marked a new phase in a healthy jazz revival that has propelled the music into Lincoln Center and other upper reaches of institutionalized culture. Redman's latest release, Compass may, again, signal a new and important phase in jazz.
The release is Redman's second since his return from a productive decade out west, and it continues his focus with small ensembles. On his 2007 release, Back East, he began working in a sax-bass-drums trio setting. Few saxophonists have adapted such a spare context as it invites comparison to the classic Sonny Rollins trio recordings of the late '50s. Redman took up the challenge and even acknowledged it. His recording Back East (the title is a nod to Rollins' 1957 trio disc Way Out West) was hailed as one of the best jazz recordings of 2007.
His new disc, Compass, further expands the language of this new band. Redman plays with top bassists Larry Grenadier and Reuben Rogers as well as drummers Brian Blade and Gregory Hutchinson. Many of the tracks are in trio format, but on a few the ensemble expands to include either both bassists or both drummers and all five musicians play on a few tunes. Yet the variety of settings never infringe on the intimacy of the music or its austerity. Redman's groups make lean, appealing music; the sound is nimble, and his band mates race from one set of rhythms to another without sounding random or disjointed. It's the best argument in jazz today; less is more.
Great things have been expected from Redman from the outset of his career. In 1991, Redman's arrival gave jazz great potential for becoming a mainstream presence. Redman was—and still is—good looking, charming. And he has a compelling back story. He is the son of a jazz great, late saxophonist Dewey Redman, but initially he had chosen a different path. He graduated from Harvard summa cum laude in 1991 and was about to enter Yale Law School, when he decided to take a year off and dabble in the family business. That fall he won the prestigious Thelonious Monk jazz competition and decided to abandon his legal ambitions. Redman fast tracked through the jazz world; he has a broad distinctive tone, and his band nurtured the development of several important musicians including Blade and pianist Brad Mehldau.
The crowd that filtered into the New York night after Redman's superb 90-minute set looked to be the same constituency that artists such as Mehldau, Patricia Barber, Maria Schneider and other top performers have built; it's a smart and urbane set, not the jazz fanatics that populate most NYC jazz clubs, but people who like a lot of different stuff, jazz included.
G/O Media may get a commission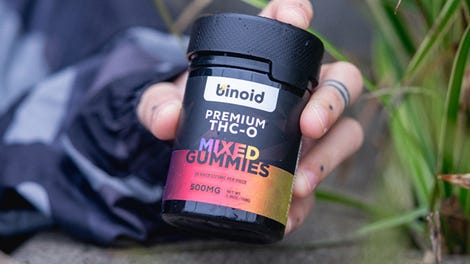 25% Off + Free Shipping
Binoid THC-O Gummies
It was expected that Redman would help lead jazz into the mainstream, and then that concept of mainstream changed. As the music industry continues to self immolate in a rush to make their product relevant to teenagers, who no longer feel the need to pay for music, an alternate scene of thoughtful pop, world music and jazz has emerged from the maddening crowd. Redman's jazz stands out in this new alternate music universe.
Redman turns 40 on Feb. 1, and he should surely celebrate. He arrived, unexpected, on the jazz scene a decade and a half ago to high expectations. And he has met them—and exceeded them—at every turn.    
Martin Johnson is a regular contributor to The Root.
Martin Johnson writes about music for the Wall Street Journal, basketball for Slate and beer for Eater, and he blogs at both the Joy of Cheese and Rotations. Follow him on Twitter.