Kara Walker is a renowned artist who is best-known for using her art to explore gender, race and sexuality. Her current piece is housed in the Williamsburg section of Brooklyn, N.Y., at the Domino Sugar Factory. A Subtlety or the Marvelous Sugar Baby—at 75 feet long, 35 feet high and 26 feet wide, a molasses sphinx in the shape of a black woman—serves as a cultural critique of the history of slavery.
According to the Art Newspaper, A Subtlety is mostly made out of sugar and actually consists of a series of figures, including 15 servants bearing empty baskets and bananas. These boyish slaves are moving toward a giantess at the center of the piece, who is naked except for a black "mammy" head scarf. Her sphinxlike physique is exaggeratedly feminine. "I was thinking about sugar and the associations with desire," explains Walker.
Demetria Lucas, a fellow writer at The Root, recently took her mother to see the display and noted how people were gawking at it. "Here's a(nother) big, black booty on display, and here are (mostly white) folks gawking at it, some even posing with it. Walker must have seen this one coming, but I wonder why none of the reviews I read caught it," wrote Lucas.
It's this gawking and hypersexualizing that has found its way to social and mainstream media. A recent Buzzfeed post proudly displayed several Instagram photos of visitors snapping pictures of the sphinx's body parts and making suggestive gestures toward them.
History has shown us time and time again how a black woman's body was (and sometimes still is) objectified. From the days of the slave trade to even having black butts on display in music videos, the black woman's body seems to easily garner laughs and mockery, even if it's made out of sugar.
G/O Media may get a commission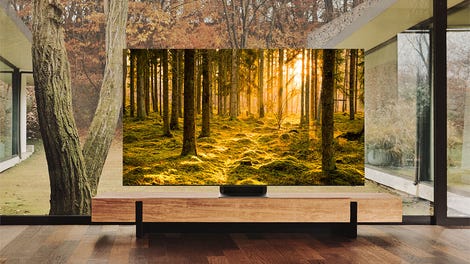 Up to 40% off
Samsung Smart TVs
I doubt that the point of Walker's piece was to incite ignorant reactions—I'm sure it was to educate people about history that they might have not been taught—but it's still sad to see people stoop to the lowest common denominator. 
Yesha Callahan is editor of The Grapevine and a staff writer at The Root. Follow her on Twitter.
Like The Root on Facebook. Follow us on Twitter.