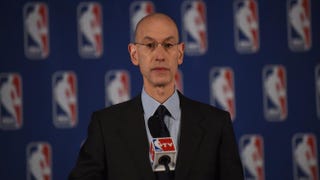 There's nothing wrong with learning from the mistakes of others, and the NBA is doing just that. Its officials are seeing just how much havoc unclear and lax domestic violence policies have caused the NFL, and so NBA Commissioner Adam Silver has described how the basketball league is getting ahead of the ball and reviewing its own guidelines that police that sort of behavior, CBS Sports reports.
ESPN's Ian Begley was at an NBA charity event in New York Monday and tweeted some of Silver's remarks.
The commissioner said that he has learned "from other league's experiences," and that the NBA is "studying everything that's been happening with the NFL."
"He also discussed the recent events of controversy in sports, including saying that the NBA would look to examine its domestic violence policy in light of the Ray Rice controversy that has plagued the NFL," CBS Sports reported.
The NBA was in the hot seat at the beginning of the summer when TMZ released tapes of now-former Los Angeles Clippers owner Donald Sterling making several racist remarks. And then more recently, both the general manager and the owner of the Atlanta Hawks stepped down after a call and email that included racist remarks also became public.
Silver explained that the league is not on a witch hunt for that kind of wrongdoing, but it's clear that the NBA doesn't want to be caught scrambling to come up with punitive guidelines if a Ray Rice-like scandal ever hits basketball.
Read more at CBS Sports.