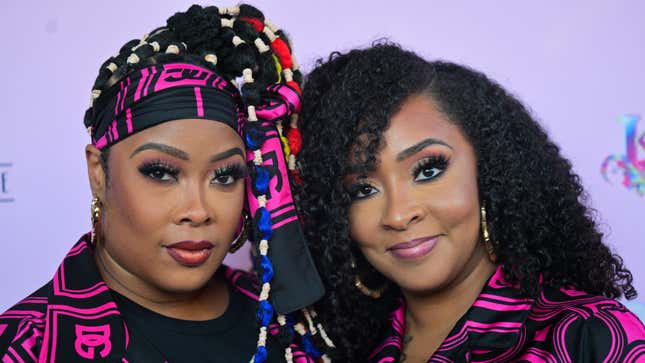 Updated as of 3/27/2023 at 11:40a.m.: Over a month after rapper Da Brat and wife Jessica "Judy" Harris-Dupart announced they were expecting their first child together, we've now learned that the couple will soon be welcoming a new baby boy into the fold.
The news was shared in a video posted to Da Brat's Instagram page which showed the two alongside a gang of their close family and friends at a gender reveal party. Adorned in pink and blue attire and hair, they all watched a countdown up until blue confetti flew out, confirming they'd be having a boy.
See the original story below.
Congratulations are in order to rapper Da Brat and wife Jessica "Judy" Harris-Dupart as it's recently been revealed the two are expecting their first child together.
The news was shared mid-morning on Monday via an exclusive photoshoot and interview with People Magazine. In the photos, Da Brat wears a black suite with an open white shirt, bearing her bump as she stands next to a white vintage car in a "gangster-style photo shoot"—meant to serve as an homage to her tough as nails rap persona.
In her interview with People, she discusses the fact she never thought baring a child would be in her life plan, especially at 48 and after having experienced a full life.
"I never thought I was going to have kids. I just thought it wasn't in the cards for me," Brat explained. "I've had a great career, a full life. I felt like, because I didn't get pregnant earlier on, then it just wasn't going to happen for me."
But upon meeting her wife, "I started looking at life so differently. I was like, I want a little me with you. Something special from the both of us that we can share and raise and love unconditionally."
The decision for Brat to carry took some convicing as Dupart shares, but ultimately was happily agreed upon. However, it wasn't all smooth-sailing for the Funkdafied rapper, who revealed struggles with fibroids, polyps and an unfortunate miscarriage after the first embryo transfer procedure.
But, like the Good Book says, weeping only endure for a night and now Brat is in her second trimester and looking forward to welcoming their new bundle of joy soon.
"It's been quite a journey, there's a lot of stuff we learned about women over the age of 40," Brat admitted before later adding: "It's just a blessing. I'm excited!"
Congratulations Brat and Jessica! Here's to a happy and healthy pregnancy and union! For more of this couple, tune into Brat Loves Judy when season 3 premieres Thursday, April 27 at 9 p.m. ET on WE TV.