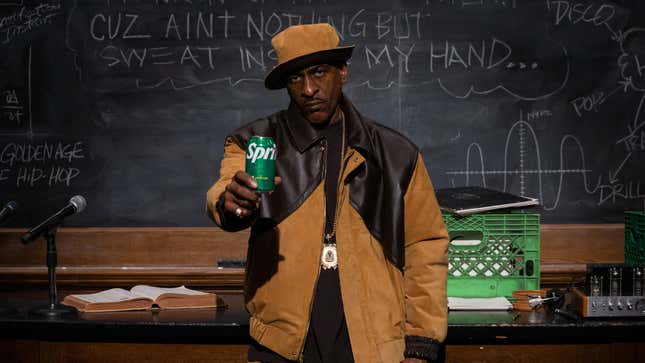 Rakim is the optime of hip-hop excellence. His uncanny ability to create clever rhymes and unique flows was ahead of its time. Before hip-hop became the mainstream sensation that it is today, The God MC was an example of how a rap star should look, sound and act.
Smokey Robinson Wants His New Album To Cause You "Gasms"
From "Paid in Full" to "When I B on tha Mic," the lyrical perfection Rakim has displayed on countless tracks just never gets old. Even decades later, he still impresses with his timeless voice and rhyme style. So it only makes sense that a respected brand like Sprite, that's been at the forefront of marketing hip-hop and its artists since the mid-1980s, works with Rakim to celebrate the 50th anniversary of one of the most popular music genres in the world.
"Hip-hop has come a long way. We have to support ourselves as artists and it's great when the masses celebrate as well," Rakim told The Root. "We look at hip-hop in the beginning, to where it's at now. Years ago, they said it was going to be a fad, it wouldn't last, it's thug music and hoodlum music."
He continued, "When you look at the impact that it has now, it seems like it's the leading genre out right now. You look at how it has affected television and advertisement, you can't do anything without hip-hop."
Along with Rakim, other MCs that are working with Sprite to celebrate the 50th anniversary of hip-hop include GloRilla, Latto, and Nas. Together, they will be featured in spots that remix "Rapper's Delight" by The Sugarhill Gang, paying tribute to hip-hop's origins while also acknowledging what it's become today.
As a young hip-hop fan who prides himself in loving and acknowledging every era of rap, it brings me joy to see this campaign connect artists from the 1980s and 1990s to current MCs. It's also fitting that both Rakim and Nas are involved in this campaign. From the moment I was put onto Nas and his early catalog as a young listener of hip-hop, OGs who were veteran listeners immediately told me, "Oh, you think Nas is dope?! Check out Rakim. He was doing the same shit—just five years earlier."
They weren't wrong.
But Rakim isn't caught up in comparing old versus new, just like Sprite—and myself—he embraces the way hip-hop has changed because it's benefited everyone involved.
"Coming from where I came from, I always remember my mother asking me If I'm making a good decision over sports," he said. "In the 80s, hip-hop wasn't promised. But when you look now, artists are similar to pro athletes."
He continued, "The freedom of doing what you want, being able to say what you want and making what kind of music you want is very important. It's been very prominent in music lately. That's what makes artists unique."
That sentiment is also still true for Rakim, and that's why hip-hop is more fun than it's ever been. It doesn't matter what type of rap listener you are, there is music out there for you. If you're a young listener, who is just being introduced to the genre, there's a variety of mainstream and underground artists to pick from. If you're an OG who's been listening to the genre since the 1980s, Rakim is still active, putting out dope verses of his own.
Someone like me, who falls in the middle, can enjoy it all. In the end, hip-hop and its fans win.