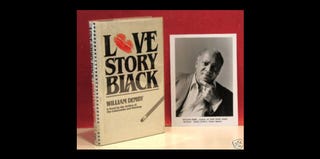 On Friday, fiction author William Demby passed away in his Sag Habor, N.Y., home, reports the New York Times. He was 90. Demby lived in Italy for quite some time, where he penned novels like Beetlecreek (1950) and The Catacombs (1965). He also wrote Love Story Black (1978) and King Comus, which has yet to be published.
… some said Mr. Demby was criticized in part because he did not focus primarily on racial issues. The critic Robert Bone, writing in The Times in 1969, called "The Catacombs" "one of the two important black novels of the 1960s," along with "The Chosen Place, the Timeless People," by Paule Marshall.

James C. Hall, who teaches history and literature at the University of Alabama, interviewed Mr. Demby extensively in the 1990s for "Mercy, Mercy Me," his book about efforts by black artists of the 1960s to reach beyond race.

"A lot of the complaints about it were that it didn't seem sufficiently black," Mr. Hall said of the reaction to "The Catacombs" in a recent interview.

"There's no question that 'Catacombs' was really ambitious," he added. "He did not want to speak of racial justice in a direct way. But you could make the argument it did, by defending the right of the African-American artist to choose whatever subject matter and to choose whatever method he or she thought was most appropriate."

In a 2004 interview with The Bloomsbury Review, Mr. Demby said, "Since 'Catacombs,' I think I have been kicked out of the Black Arts race."
Read more at the New York Times.