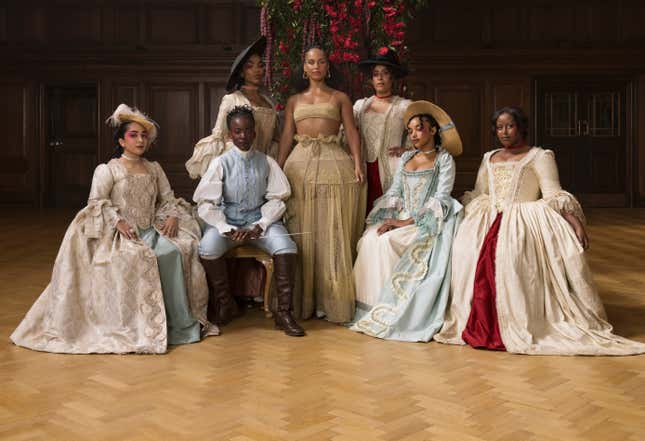 One of things that makes Netflix's Regency era drama Bridgerton feel so current is its soundtrack. The series uses orchestral covers of pop hits to give the show a modern tone. In the new prequel spinoff, Queen Charlotte: A Bridgerton Story, that's taken a step further, as all the songs are by Black women. We get classics from Beyoncé; SZA; Whitney Houston; and Alicia Keys. The whole series—and by extension the soundtrack—is a celebration of the strength and power of Black women.
Stars of Lifetime's A New Orleans Noel On Their Rom-Com Christmas Movie
As part of this celebration, Keys joined a 70-piece women of color orchestra to record a new version of her popular love song, "If I Ain't Got You," which is featured in Episode 3. Per a press release provided to The Root, the orchestra is led by "South Africa's first Black female conductor, Ofentse Pitse." In the series, the track is stropped down and more composed to fit in with the scene. However, the new version from the 15-time Grammy-winner is a soaring showcase of how amazingly talented these women are.
"The entire idea was quite ambitious," Keys told Billboard. "I feel like it's going to open the minds of many people to realize that women of color belong everywhere and we've always been everywhere. It's magical."
The song is part of a beautiful, crucial moment in George and Charlotte's relationship, and it's absolutely perfect. In fact, every cover used in the romantic drama hits its emotional target. They draw us even deeper into the complicated love story of the king and queen. Considering how obsessed I've been with this series since it premiered, I'm not exactly an unbiased audience, but it feels like Queen Charlotte uses its covers better than the first two seasons of Bridgerton. "Halo" from Beyoncé; "Nobody Gets Me" by SZA; and Whitney Houston's "I Will Always Love You" are among the tracks prominently featured in the show.
Queen Charlotte: A Bridgerton Story is now available on Netflix.