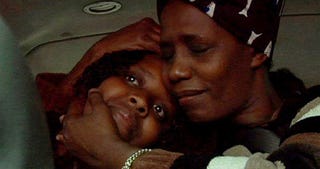 Black Voices is reporting that a new documentary about ethnic cleansing in the Democratic Republic of the Congo will air tonight on PBS. The film, Pushing the Elephant, examines the story of Rose Mapendo, who was separated from her daughter during the ethnic violence that permeated the Democratic Republic of the Congo in the 1990s.
The film explores Mapendo's journey to find her daughter and the challenges of adjusting to a new country in the wake of seeing the destruction of her family and homeland. The film is part of the PBS series Independent Lens and airs at 9 p.m. EST. 
Read more at Black Voices. Watch the trailer below:
In other news: Florida Legislature Makes Stealth Move to Privatize Prisons.
Like The Root on Facebook. Follow us on Twitter.