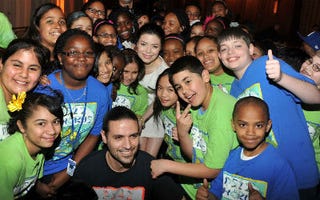 You know the PS22 Chorus from its viral video, Target commercial and performance as the closing act of the 2011 Academy Awards. Once in a Lullaby: The PS22 Chorus Story, a documentary following the fifth-graders' journey to fame, gives viewers a glimpse into some of the kids' lives. It premieres at the Tribeca Film Festival on April 29.
Visit the film's Facebook page to find out when it plays near you.
Watch the trailer, the chorus's cover of Adele's "Rolling in the Deep" and its Target commercial here:
Read more at ColorLines.