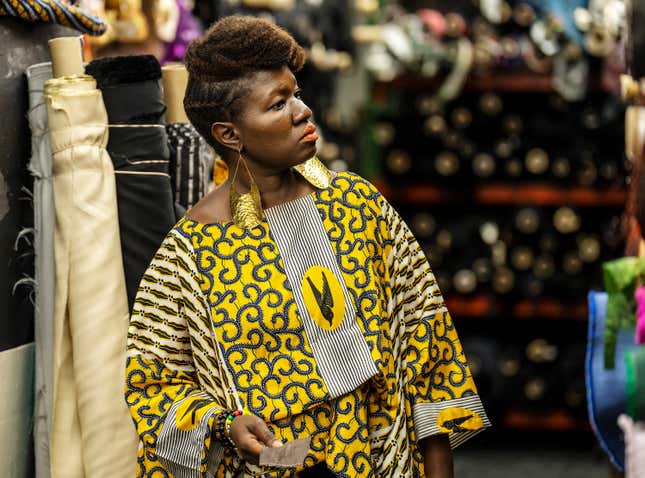 Promptly at 3 p.m. on September 9, 2023, at the Leman Ballroom in Manhattan, New York, Project Runway alum Korto Momolu presented a stunning 22-look collection at New York Fashion Week. In the audience, I spotted fellow stars of Project Runway, Kara Saun and Laurence Basse as well as America's Next Top Model's Yaya DaCosta.

The Foldover Warm Slap with Pom By Grace Eleyae Is Our Swag Of The Week
I spoke with Momolu via a Zoom call a week before the big day to talk about her newest collection, titled Ink & Ivory: A Tale of Joy and Pain.
Momolu is known for being a sort of pioneer in Project Runway, pushing the agenda of expanding body shape and size inclusivity in womenswear. As she sat in her home in Arkansas with African art scattered on the walls, and wearing a fabulous fedora tipped the side she talked about a common mindset of women's fashion, "It's about as a woman when I put this on, does it make me feel like a million bucks? Does it cover my pot belly and my hips or my say whatever it is that makes me feel unpretty?"
However, this collection was also Momolu's emergence into menswear and gender-neutral clothing. The Project Runway alum wanted to do menswear not only for the expansion of her brand but also in memory of her father, Clarence K. Momolu Sr. who she said loved to dress up due to his African upbringing which included always wearing your best clothing. Her father, unfortunately, passed away at the same time this summer when she found out that she would be doing the fashion show.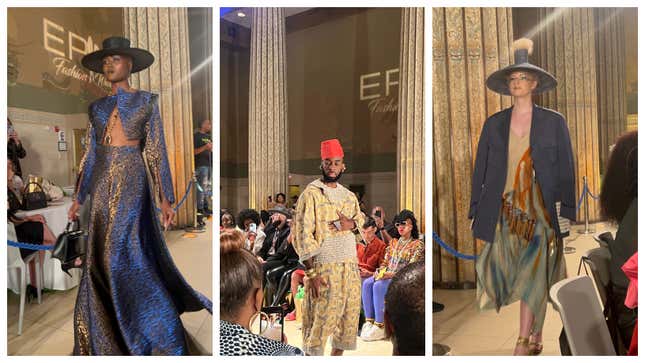 Fast forward a week later on a humid and overcast day in the city, it was a relief that the show was in an air-conditioned ballroom, with the only thing filling the space was the energy and excitement of fashion gurus getting to see some cultural clothing during the typically white-washed runways of fashion week.
The show opened with Afrobeats blasting through the DJ's speaker, then followed a slew of men's and womenswear pieces sported by a variety of shapes, sizes, races, and genders of models on the catwalk. The collection featured a combination of African prints and shiny, royal-esque fabric, from JOANN Fabrics.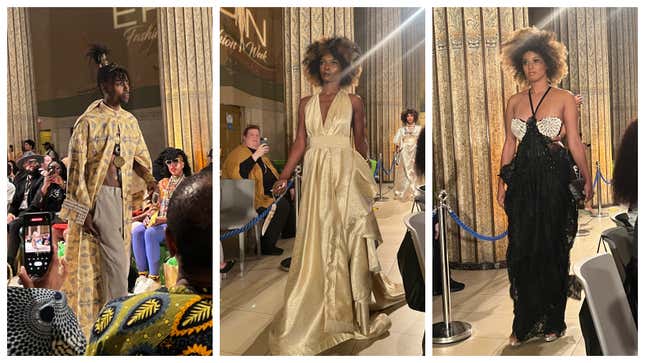 It's no surprise after seeing the collection in all its glory why Momolu was chosen for this moment. When she was asked by The Root how she stands out as a designer, she responded, "I think for me that's what made me stand out what was missing [in the fashion industry] was someone who is unapologetically paying tribute to her roots. You know, I always pay tribute to my African roots." Momolu was born in Liberia and immigrated to North America in 1990.

The show concluded with a standing ovation as the audience cheered on Momolu as she walked up and down the runway to accept the well-deserved praise. I caught up with Kara Saun for a comment after the fashion show. "I talked to Korto almost every day while she was prepping for the show.,'' she said. "She's truly my sister so I just knew the heart and soul she put into it for her dad."
The fashion show was made possible by EPN Fashion Week and founders, Maggie and Hubert Delany. The Delanys learned about Momolu and fell in love with her artistry after being introduced to her by fellow Project Runway contestant, Malan Breton.