A hostage situation is underway at the James T. Vaughn Correctional Center in Smyrna, Del., after an unknown number of inmates took control of a building Wednesday morning, injured one corrections officer and took four others, as well as fellow prisoners, captive.
The News Journal reports that as of Wednesday night, there was little progress toward a resolution in the standoff, aside from the release of the injured officer.
At a news conference late Wednesday afternoon, state Police Sgt. Richard Bratz said that around 10:30 that morning, a corrections officer radioed in a call for immediate assistance in Building C of the prison, which houses more than 100 inmates, and the prison was put on lockdown at that time.
An injured officer was released shortly after 2:30 p.m., Bratz said, and was transported to an area hospital with non-life-threatening injuries. It is unknown if there are any other injuries, and authorities said that negotiations are continuing. Bratz said that the state Department of Correction would provide hourly updates.
From the News Journal:
Around 2 p.m., The News Journal tipline received a call from a woman who said her fiancé is an inmate at the Smyrna prison and is being held hostage. Then, a man's voice was patched onto the line and he said he was asked by hostage takers to relay demands to The News Journal.

"I'm just doing what I'm being told to. I'm just trying to help, ma'am," the man told a News Journal reporter. "They just need somebody to hear their demands." The man would not give his name because he said he was instructed not to.

The demands came in the form of a manifesto or decree and mostly called for prison reforms.

"Improper sentencing orders. Status sheets being wrong. Oppression towards the inmates," the voice continued.
G/O Media may get a commission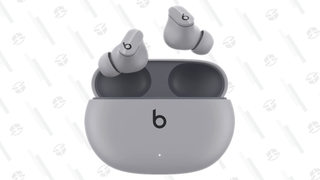 The News Journal reports that a second call was funneled through a woman who said that her son was an inmate at the correctional center and being held hostage.
"We're trying to explain the reasons for doing what we're doing," one of the voices on the call said. "Donald Trump. Everything that he did. All the things that he's doing now. We know that the institution is going to change for the worse. We know the institution is going to change for the worse. We got demands that you need to pay attention to, that you need to listen to and you need to let them know. Education, we want education first and foremost. We want a rehabilitation program that works for everybody. We want the money to be allocated so we can know exactly what is going on in the prison, the budget."
According to the Department of Correction website, Vaughn Correctional Center was opened in 1971 and houses minimum, medium- and maximum security inmates as well as those awaiting trial in Kent County, Del.
Dan Dunne, the former national spokesman for the Federal Bureau of Prisons, told the News Journal that the biggest challenge for any prison dealing with a hostage situation like this is the release of information, because it's impossible for those releasing the information to know who on the inside might be receiving it. Inmates have access to TVs, radios and phones.
Dunne said it's important for police and negotiators to know what the hostage takers are thinking and what motivated them in the first place; officials need to respect and understand their demands in order to interact with them.
"At least there is information to be discussed," Dunne said of the phone calls made to the News Journal. "The doors closed with nothing from the hostages can be more dangerous."
Read more at the News Journal.