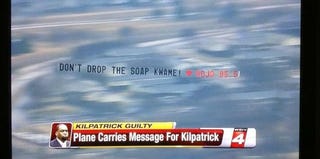 Many Detroiters reacted positively to news that former Mayor Kwame Kilpatrick was convicted in federal court of 24 charges related to corruption during his tenure at City Hall, the Huffington Post reports. He was immediately ordered to jail on Monday.
A radio station may have taken things too far, however, when hosts made an apparent joke about prison rape, urging the beleaguered former mayor "not to drop the soap."
… one local radio show allegedly took to the skies to deliver a very specific suggestion to Kilpatrick, who was immediately remanded to jail this afternoon, along with contractor friend Bobby Ferguson. They may have crossed the line with this stunt.

"Mojo in the Morning," a popular morning radio show hosted by FM station 95.5, posted this update to Facebook on Monday afternoon:

"Hey Detroit listeners: If you are downtown, post a picture of our airplane that is flying over the downtown area + Kwame's courthouse right now ;)"

MLive Detroit was the first outlet to post a clear picture of the banner, which read: "Don't Drop The Soap Kwame! Love (with a heart shape) Mojo 95.5"
Read more at the Huffington Post.