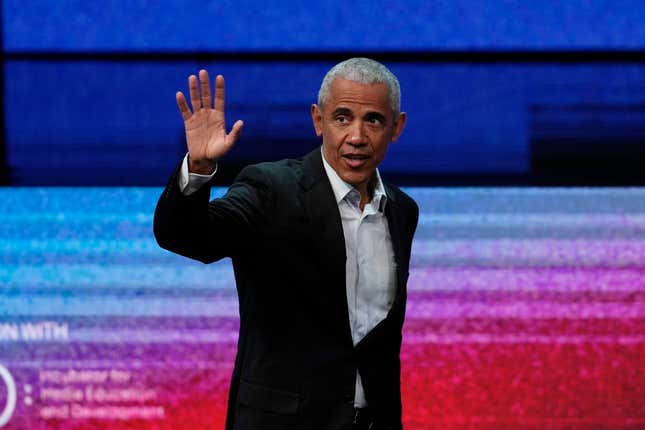 In case you needed any further proof that Barack Obama is the coolest president this country has ever had, number 44 just dropped his annual summer playlist and reading list on social media. In a July 20 tweet, Obama shared the songs he's had on rotation all summer long. And as usual, his diverse playlist covers everything from John Coltrane's "Blue Train" to "The World is Yours" by Nas. Obama captioned the post letting us know that his choices were a "mix of old and new." But I'm not going to lie, I definitely had to do a double take when I saw the Ice Spice and Nicki Minaj collab "Princess Diana" on the list.
Oprah And Michelle Obama in The Light We Carry Is Our TV Pick This Week
When it comes to reading, Obama's picks are just as diverse. His eclectic list includes great works of fiction from Black authors, including S.A. Cosby's crime novel "All The Sinners Bleed," DK Nnuro's celebrated debut "What Napoleon Could Not Do" and "Blue Hour," the powerful debut novel by Tiffany Clarke Harrison.

Looking at lists like these, you may be wondering what intern put these lists together. There's no way Obama is bumping Pearl Jam in his car. But you should know that Obama takes this responsibility seriously. He doesn't just delegate these picks to some overly eager college student.
In a June interview with Hasan Minhaj, our Forever President shut down speculation that he doesn't choose his faves himself, saying he signs off on everything that ultimately ends up on his lists.
"Here's the bottom line of my playlists, and my book lists, and my movie lists: I am very scrupulous about making sure that this is stuff that I actually like," Obama insisted. "Unless I'm actually listening to it, watching it, reading it, I won't put it on there."