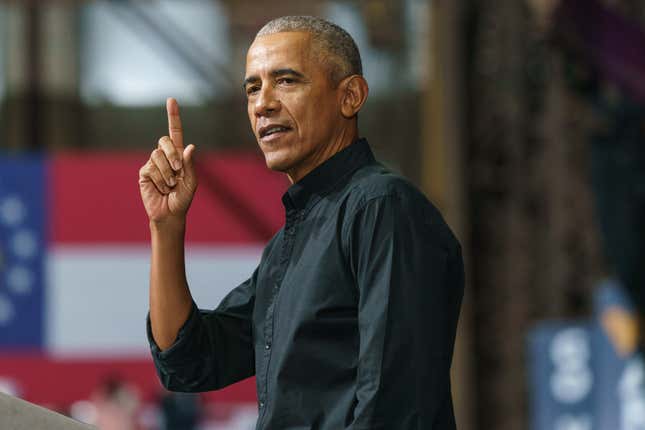 We know Barack Obama as an intelligent, charismatic leader who also happens to have a serious jump shot. And if you've ever checked out his annual list of favorite songs, you know our Forever President has pretty good taste in music too.
Barack Obama Hosts Working: What We Do All Day, Our TV Pick This Week
Obama's 2022 list of favorites included tracks from Beyoncé, Bad Bunny and Burna Boy. And although his playlists always include some serious bangers, I had to wonder if someone who was once the leader of the free world really had "Boo'd Up" by Ella Mai on rotation as he suggested with his summer 2019 playlist. And apparently, I'm not the only one.
In a recent interview with Hasan Minhaj, the former President took the time to set the record straight on the authenticity of his yearly playlist picks.
"I need you to look me in the eyes and be honest with me. Mr. President, when you do your end-of-the-year lists, do you really read all those books, watch all those shows, and listen to all those songs?" Minhaj asked.
Obama responded that while most believe he really chooses his favorite books and movies each year, it's the playlist people often have trouble giving him credit for. And he quickly shut down any haters who think he doesn't know as much about music as he does foreign policy.
"This is mostly coming from young people like you. Somehow, y'all think you invented rock and roll, you invented hip-hop," he said. "And so the fact that my lists are pretty incredible, people seem to think, 'Well, he must have had some 20-year-old intern who was figuring out this latest cut.'"
But Obama says that while he sometimes gets suggestions on tracks he should check out, when it comes to who ultimately ends up on to his playlist, the buck stops with him.
"Here's the bottom line of my playlists, and my book lists, and my movie lists: I am very scrupulous about making sure that this is stuff that I actually like," Obama insisted. "Unless I'm actually listening to it, watching it, reading it, I won't put it on there."
However, there is one author who is always guaranteed to make it onto his favorite list: former First Lady Michelle Obama.
"What would happen if you didn't choose Michelle's book?" Minhaj asked.
"Well, that would be foolish of me because we share a bank account," Obama laughed.