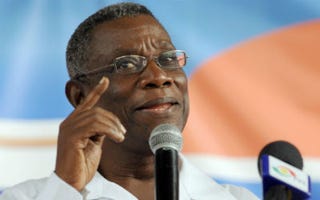 Updated July 24, 2012 at 4:01 p.m. EDT — President John Atta Mills of Ghana died Tuesday afternoon in Accra, the country's capital, according to Reuters. He was 68. The president's office sent a statement about his passing: "It is with a heavy heart … that we announce the sudden and untimely death of the president of the Republic of Ghana." Reuters is also reporting that a presidential aide said Mills had complained of pains on Monday evening and died on Tuesday after his condition declined.
Mills took office on Jan. 7, 2009, as the third president of the Fourth Republic of Ghana. He was rumored to have been ill during his presidency and drew concern after traveling to the U.S. for a medical checkup earlier this year.
Said U.S. President Barack Obama in a released statement, "It was with great regret that I learned of the passing of President John Evans Atta Mills of Ghana. I will always remember my trip to Ghana in 2009, and the hospitality that President Mills and the people of Ghana showed to me, Michelle, Malia, Sasha and our entire delegation. I was also pleased to host President Mills in the Oval Office earlier this year. 
"President Mills tirelessly worked to improve the lives of the Ghanaian people.  He helped promote economic growth in Ghana in the midst of challenging global circumstances and strengthened Ghana's strong tradition of democracy. Under his leadership, the United States and Ghana deepened our partnership in the promotion of good governance and economic development. He was also a strong advocate for human rights and for the fair treatment of all Ghanaians.  On behalf of the American people, I would like to offer my deepest condolences to the people of Ghana, and reaffirm the deep and enduring bonds between our democracies that President Mills helped to strengthen."
John Dramani Mahama, who became vice president of Ghana in 2009, was sworn in as president Tuesday evening. Mahama has contributed several pieces to The Root over the course of his vice presidency, including an exclusive excerpt from his recent memoir, My First Coup d'Etat: And Other True Stories From the Lost Decades of Africa. Here's a list of some of his op-eds:
Your Take: The Bridge Between Ghana and Black America
What Would Fela Think of Today's Africa?
Your Take: Seeing Africa With Different Eyes
Your Take: The Bridge Between Ghana and Black America
View the full statement from the president's office here.
Read more at Reuters.
If you want to see what's hot on black Twitter, check out The Chatterati.Akoto Ofori-Atta is the editor of The Grapevine. Like her Facebook page and follow her on Twitter.