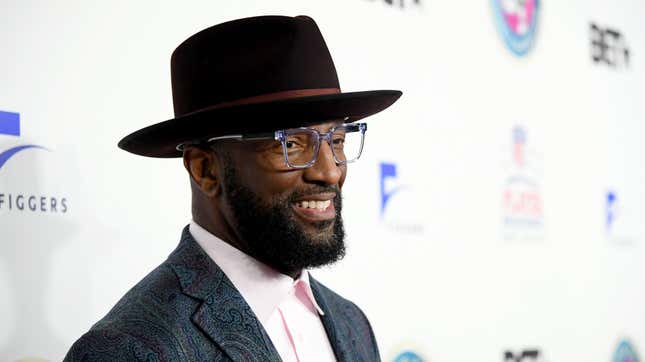 The Root is sad to share that Brandon Smiley, son of comedian and radio host Rickey Smiley, has died at 32.

Fighting "Lie-abetes": How To Spot And Combat Disinformation and Conspiracies In Politics | The 411: Part 2
The news of his passing was shared by his father during an Instagram live on Sunday as he was on his way to Alabama to be with family. No cause of death has been shared at this time, according to Page Six.
"I just have bad news this morning. I'm on my way to the airport to get to Birmingham. I just want everybody to pray for me, pray for our family," Smiley began before sharing the heartbreaking news. "My son Brandon Smiley has passed away this morning. I'm about to go get on a flight and try to get to Birmingham. I want all our cousins and different family members to pray, be strong. I'm OK. Pray for my son's mother and my son's siblings, pray for my son and my daughter. Everybody that was raised with Brandon. Pray for my son's mother Brenda and his dad Taurus and his sister Taylor and everybody. I hate to announce this, I just wanted to give it to you before you hear it in the streets."

"Life comes with a whole bunch of twists and turns, I don't care where you go or what. I can't think," Smiley said before later sharing that he now knows what his grandfather went through because he lost his son (Smiley's own father) as well.
"Just pray for our family, he concluded.
Upon hearing the news, a slew of Smiley's celebrity friends and fellow comedians shared their condolences on social media:
"I love you, brother. ALL my thoughts & prayers for you and your tribe," said actor Omari Hardwick.
"Brandon was such a light...praying for your family..this is heartbreaking," wrote comedian Loni Love.
"Oh man, so, so, so, so sorry to hear that brother. Praying for you and the fam," said comedian Lil Rel.
Dish Nation, the radio platform that hosts Smiley's popular Rickey Smiley Morning Show, also shared similar sentiments, writing: "So very sorry for your loss, Rickey, We send our warmest condolences to you and the family during these difficult times."
Upon posting the news, Smiley shared additional photos and videos of Brandon, including one of him doing standup comedy and another where he poked fun at his father.
The Root sends our deepest condolences to Rickey, his family and all those who knew and loved Brandon Smiley. Our thoughts and prayers are with you.