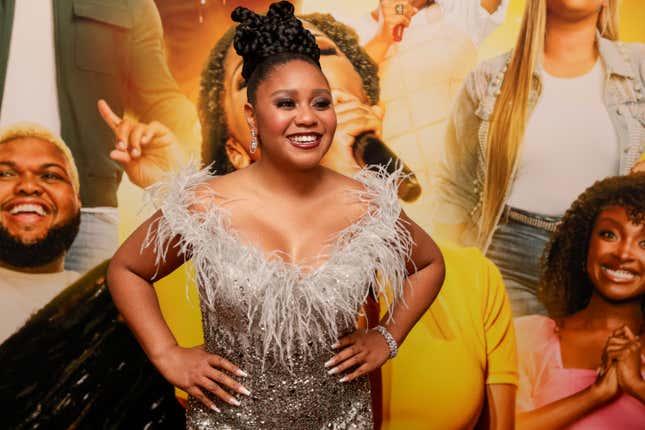 You may have seen Anjelika Washington as Beth Chappel in CW's Stargirl or Fareeda in Netflix's Tall Girl, but her newest film endeavor has her playing Jess in Peacock's Praise This, also starring Chloe Bailey, Quavo, Tristan Mack Wilds, Druski, and more. 
Producer Will Packer Compares Chloe Bailey to Beyoncé | Securing the Bag: Part 5
Jess, who Washington admits is a lot like herself, is a quirky girl, who's ultra-talkative, friendly to everybody, says what's on her mind, and loves the church. "I love the naivety that she has," she told The Root. "Jess is the literal definition of what people would probably consider a Jesus freak. I was around a lot of people like that when I went to Bible college, so I definitely pulled from that experience. She's Anjelika times ten. So it was a lot of fun to play her, but I did drink a lot of coffee and a lot of tea."
Praise This follows Sam (played by Chloe Bailey), who fails from Los Angeles, as she comes to the South and reunites with her cousin, Jess. Jess brings a reluctant Sam to church with her and joins the praise team, which needs some rejuvenation in order to compete in a choir competition.
In a rare occurrence in a feature-length film, Praise This has a majority-Black cast. "It was such an honor and a pleasure to just be surrounded by my people, work with my people, and get to show up every day and be surrounded by just beautiful melanated kings and queens and others," Washington said. "After three months, I think, naturally, we became a family, just because we were there [in Atlanta] together for so long."
Although the Bakersfield, Calif., native doesn't categorize herself as a singer—even though she's living out her dream of being one by showing off her vocals in the film—her co-stars Chloe Bailey, Koryn Hawthorne, Loren Lott, and Jekalyn Carr are some of the strongest female vocalists in the music industry, making the film a spectacular musical filled with riffs and runs that will take the audience back to their gospel roots.
When asked what people should take away from Praise This, Washington sat up, thought for a minute, and used the opportunity to let viewers know—especially church-going, God-fearing saints—that this movie is a comedy, and meant to be lighthearted rather than taken as a mockery of God or the Black Christian community.
"I want people to just enjoy life and enjoy each other and not to take everything so seriously," she said. "We're making fun of the experiences that we've all had in church. We all know those church people that just say the craziest things and do the craziest things but it doesn't mean they don't love Jesus."
You can check out Jess, Sam, and the rest of the choir's journey in Peacock's Praise This, now streaming on the platform.