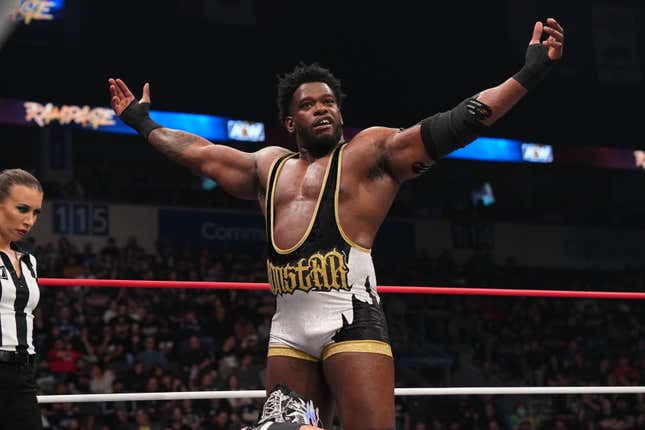 As its brand gains in popularity, All Elite Wrestling had fans buzzing with the announcement of a new weekly live TV show. Premiering June 17, AEW Collision will feature some of the promotion's biggest names, including CM Punk. When the first poster for the series was released, fans immediately took notice of how prominently placed Powerhouse Hobbs was. The former TNT Champion is one of AEW's most popular stars, so fans are super excited about the idea of him getting a huge push. Hobbs spoke with The Root about being one of Collision's featured stars and his connection with the fans.

The 1619 Project Is Our Black TV Pick Of The Week
Hobbs truly appreciates the support he gets from the fans. He's one of those rare stars who the crowd roots for whether he's a good guy or a bad guy. We just want to see him destroy other wrestlers and win titles.
"It takes me by surprise how the fans react to me," Hobbs told The Root. "I'm still not used to it. I'm going on three years, being with AEW and I'm still kind of getting used to fans recognizing me."
The big man is someone who always delivers an entertaining match. Even when he's just squashing enhancement talent in a matter of seconds, it's still exciting, because it feels like he's always telling a story. He draws inspiration from a wrestling legend.
"Everybody loves a good ass kicker. Everything I do is an extension of me and there's nothing fake on it. I look at it almost like Stone Cold Steve Austin," he said. "Whether he was good or bad, he brought everything to the table. The person you see in the ring is somewhat of an extension of me."
AEW Collision's roster will be led by one of the biggest stars in the business, CM Punk. He's someone Hobbs says he owes "payback" to after their match at AEW Grand Slam in September 2021. Other than crossing paths with Punk, the California native is also excited to mix it up with several other stars, including Samoa Joe, Andrade and Miro. I got goosebumps thinking about the possibility of Hobbs vs. Miro.
"I'm just excited about the opportunity that this new show is going to bring. It's going to take AEW to another level," Hobbs said. "We're going to attract new fans. We're gonna see matches that we've never seen before. Dream matches, different, different worlds colliding. A lot of people are gonna see matches that they actually want to see."
And in case you're like me, and are still thinking about that time we almost got to see Jon Moxley and Hobbs as a team, it turns out he's open to joining the Blackpool Combat Club. Though he's just as open to fighting them. Honestly, both are appealing ideas.
"That would be interesting. I've said years ago that I'm disappointed that I never got to team with Mox and that match never happened," he said. "If it came down to it, and there was an opportunity to possibly join the BCC, who knows? If that were to happen, we would be unstoppable. But if the BCC crossed my path, then they would have some issues themselves."
AEW Collision airs Saturdays at 8 p.m. ET on TNT.