Earlier:
A Dallas police officer shot and killed a 26-year-old on Thursday night after the officer allegedly entered the victim's apartment and mistook it for her own, according to police.
The Dallas Morning News reports that the incident occurred at around 10 p.m. at the South Side Flats on S. Lamar St., just blocks away from police headquarters. But don't worry, the Morning News also felt that it was appropriate to mention that the officer ... you know, the same one who fired the shot, was not injured in the incident.
According to the police department's story, the female officer arrived at the apartment complex after working a full shift and strolled into Botham Shem Jean's apartment, thinking it was the officer's home.
Police declined to explain how the situation escalated and declined to say whether the officer, who remains unidentified, mistook Jean for an intruder.
"I won't go into that information right now," Dallas police spokesman Sgt. Warren Mitchell said. "I mean, we have not interviewed her, and like I said this is just a preliminary statement. We still have a lot to do in this investigation ... This is all we can give you at this time."
G/O Media may get a commission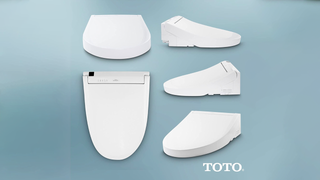 44% off
Toto Washlet Electronic Bidet Toilet Seat
Indeed, there are a lot of questions. How did this officer get into the wrong apartment in the first place? Do people in Dallas routinely leave their doors unlocked? Upon entering said apartment, how did she not immediately recognize it was not her own? Did Jean just happen to have the same furnishings and layouts as this officer? Did Jean have pictures of the officer on the mantlepiece? How quickly was the gun drawn?
I find it hard to believe that anyone would see a random officer walking into their apartment and not ask, "Who the fuck are you?" or "You're going to need to show a warrant before you take a step further."
Did Jean not have any reaction to this strange woman being in his house before she killed him? Maybe Jean did what anyone who noticed an intruder inside their home in the middle of the night would do: Go apeshit!
Neighbors in the complex have much of the same questions.
"How can you make a mistake like that, getting into someone else's apartment?," an 80-year-old who only identified herself as Raquel told the Morning News.
"Don't they train police?" Raquel added. "Now, if something happens to me, I'm going to be too scared to call police because I'm afraid it will end in a tragedy."
Authorities did not say whether anyone witnessed the shooting, nor have police spoken to anyone else about the case so far.
The female officer initially reported Jean as wounded. Police who responded conducted first aid before Jean was taken to Baylor University Medical Center, where he was pronounced dead.

Jean's uncle posted a tribute to him on Facebook, mourning his loss.
As one might expect, the officer involved has been placed on leave pending an investigation into the shooting.
But, again, don't worry; the unnamed officer is perfectly fine.
Updated: Friday, September 7, 2018; 2:17 p.m. EDT:
Police have announced their intention to seek a manslaughter charge against the Dallas officer who killed 26-year-old Botham Shem Jean after entering his apartment, mistaking it for her own.
"This is a very unique situation," Police Chief U. Renee Hall said at an afternoon news conference, reports the Morning News. "We have ceased handling it under our normal protocol as an officer-involved shooting."
Well, that's good to know since you have yet to explain how this woman could have entered an apartment, not realized it was her own, and then killed its actual rightful owner.
Hall, however, still declined to name the officer until she is formally charged. Currently, police are working to obtain a warrant. The officer's blood has been drawn for alcohol and drug tests and the Texas Rangers have been asked to help with the investigation.