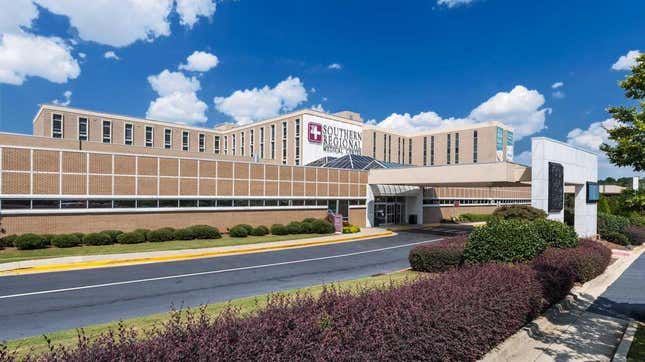 This story may contain graphic details disturbing to some readers.
Remember the horrific story of the Georgia couple who claimed that their baby was delivered decapitated? Well, it just got much worse.
Fighting "Lie-abetes": How To Spot And Combat Disinformation and Conspiracies In Politics | The 411: Part 2
Just a month after Jessica Ross and Treveon Isaiah Taylor filed a lawsuit alleging that a doctor at Southern Regional Medical Center in Riverdale, Ga. was responsible for the death of their baby, the couple is filing a second lawsuit against the physician who performed the autopsy after they saw videos of the procedure posted on social media.
During a Tuesday press conference, Ross and Taylor announced the suit against independent pathologist Dr. Jackson Gates. Allegedly, the couple went to Gates for an independent autopsy after the funeral home discovered that their baby, Isaiah, was decapitated, according to WSB-TV.
Meant to only perform an autopsy, family members notified the couple that Gates posted photos of the baby's head on his Instagram profile along with his exposed organs. Although the initial post was deleted, the suit claims that two more videos from the autopsy were posted days later to his Instagram page with the caption, "the autopsy of the chest cavity of the child and the cranial cavity of the child."
Gates claims that he posts photos and videos of multiple autopsies he performs on his social media and says that it's only for "educational purpose."
What were the couple's allegations in their first lawsuit?
In their initial lawsuit, the couple named Dr. Tracey St. Julian as the person responsible for the baby's death at the Georgia hospital after hours of unsuccessfully attempting to deliver the baby.
Specifically, the lawsuit says Baby Isaiah's shoulders got stuck in the vaginal canal, causing the delivery to be halted. After three hours of trying to get the baby out, the couple asked for a C-section to be performed, but they were denied.
They then said St. Julian used "ridiculously excessive force" on the baby's head when she tried to pull him out, but it did not work. When a C-section was finally attempted, it showed that the child's heart had stopped.
More from USA Today:
This was when the baby's torso and legs were delivered surgically while the head was delivered vaginally, alleges the suit. The hospital is accused of then wrapping the baby tightly in a blanket and "propping the baby's head on top of the blanket to make it appear like the head was attached when it wasn't," Edmond previously told reporters at an August press conference.
While the lawsuit is also claiming that Southern Regional Medical Center attempted to cover up the baby's death, they also aren't protecting Dr. St. Julien, who they say "is not and never has been an employee of the hospital."