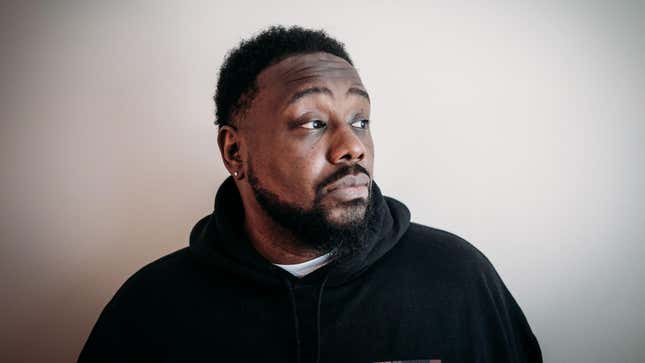 Little Brother is one of the greatest groups in the history of hip-hop. No question. Their influence on some of the genre's greatest and most famous artists is unparalleled.
MAC'S Whitney Houston Make Up Collection Is Our Swag Of The Week
Although they're not the most recognizable entity, those who are educated on hip-hop's history know the impact Little Brother has left on the genre, and those who know about LB, all recognize that Phonte is one of the architects of the legendary North Carolina duo.
If there's one word I would use to describe Phonte, it would be consistent. Even after the group went on a nearly 10-year hiatus, Phonte continued to stay creative and architect exceptional work.
Phonte creates what I call "grown man hip-hop." It isn't music that I would consider old, but music that deals with mature and sophisticated topics. He doesn't create music that panders to younger listeners, he creates music that is meaningful to him and others who are going through similar experiences.
But, even though he's set on making mature and quality music, Phonte knows how to have a little fun. He's expanded his writing skills into the TV comedy world, writing hilarious sketches for AMC Networks' Sherman Showcase. But, despite creating art for a different medium, the transition from music to television hasn't been difficult for Phonte. Especially since he and the other members of LB were known for making some of the most hilarious and creative skits in the history of music on their albums.
"Working in the music business prepares you for any and everything," said Phonte. "All those years working on LB records, Foreign Exchange records and solo, that was just what we were doing. So fast forward 20 years later, I'm being asked to compose these just completely ridiculous songs."
You see, transitioning for Phonte has never been difficult. He's been able to seamlessly go from working on albums with Little Brother, to creating R&B records with The Foreign Exchange, to creating solo hip-hop albums without the members of LB. The sound of his music has changed, but Phonte is still him in ​​every piece of art that he creates.
It's also apparent in his role as an executive. After being signed to Atlantic records for a few years after the release of The Listening, Phonte and the other members of LB departed from the major label, citing that creative differences were the main reason for things not working out.
But, like many obstacles in Phonte's life, he takes them on the chin and uses them as learning experiences.
"I'm thankful that we had the opportunity to sign with a major label, if for no other reason than to demystify what it was or what we thought it was," said Phonte. "It's like the scene in The Wire when Kenard sees Omar for the first time and it's like 'that's Omar?'"
He continued, "When you're an independent, it's like, 'This is my idea, let's do it.' On a major [label] it's like, 'This is my idea, now let me email 50 people to make sure it's okay.' I ain't got time for that shit man."
Phonte meant what he said and created The Foreign Exchange Music Imprint, named after his R&B duo of the same name.
"You're not your own boss if you're not your own bank," said Phonte.
Now Phonte, Big Pooh and 9th Wonder are taking that mindset into the film world, to tell the Little Brother story.
But why now? While the 20th anniversary of their debut album is an easy connection, Phonte has other reasons.
"First and foremost, Pooh and I understand who we are, but we also know what the story is," said Phonte. "The director, Holland Randolph Gallagher, is someone not from our generation. We wanted a different set of eyes on the story so that would lead to different and new perspectives."
He continued, "The last thing you want is someone telling your story that feels like they already know it."
But, like many things in the world, as Phonte and Big Pooh were ideating on the topic of the documentary, COVID hit, which allowed them to reassess how they want to tell their story.
"You start and you have an idea of what the story is story is," said Phonte. Then you're doing an interview and somebody drops a bombshell and you're like 'What the fuck?!'"
He continued, "When COVID hit, that gave Pooh and I time to sit down and unpack everything over the last 20 years. Personal shit, arguments we had with each other, beef we had with others. Everything. Then we realized, this is what this fucking documentary is about."
Now, to celebrate the impact Little Brother has had on the hip-hop community, the group will be dropping May The Lord Watch: The Little Brother Story later this year. While an official release date for the film has not been announced, the North Carolina duo will have the privileged opportunity to tell their story on their terms, something Black artists aren't always able to do.
"How many hip-hop groups can survive 20 years and even those who survive, how many are alive and able to sit and tell that tale?"