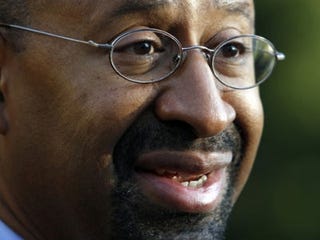 Philadelphia Mayor Michael Nutter has never been one to mince words, and he proved that once again Wednesday.

After the tragic murder of three 14-year-old children, Nutter blasted the criminals, telling Fox 29, "The first way to stop this kind of stuff is for young people to be home when they're supposed to be home and for adults not to act like idiots and a—holes out in the streets of our city, shooting at kids in a car.

"If you want to act like an idiot, if you want to be an a—hole, if you want to be a lowlife in this town, we will track you down like the dog that you are," Nutter added, according to CBS Local News.

Seven kids between the ages of 14 and 16 were in a car on their way to fight with other teenagers. When they arrived, 30-year-old Axel Barreto, the stepfather of one of the targeted teens, shot up their car. Barreto has been arrested. The altercation resulted from an argument that originated on Facebook.
The parents of these young men and other criminals across the city got a tongue-lashing as well. "Parents have to know where their children are and what they are doing," Nutter said, according to CBS Local News. "Their little butts should have either been in bed, getting ready for bed or doing some homework."

Nutter is a hot-button topic among many African Americans in Philadelphia. Many feel the mayor airs the community's dirty laundry, while others applaud his Bill Cosby-esque approach to dealing with his own people.
We're all for Nutter's comments. Many feel it is political posturing to gain the white vote. While it may be a bit of that, we are talking about a Philly product who is witness to almost more crime now than when he was growing up. It has to be sickening for Nutter to preside over a city where not only the adults seem to think its the Wild, Wild West but the children as well.
Read more at MSNBC.