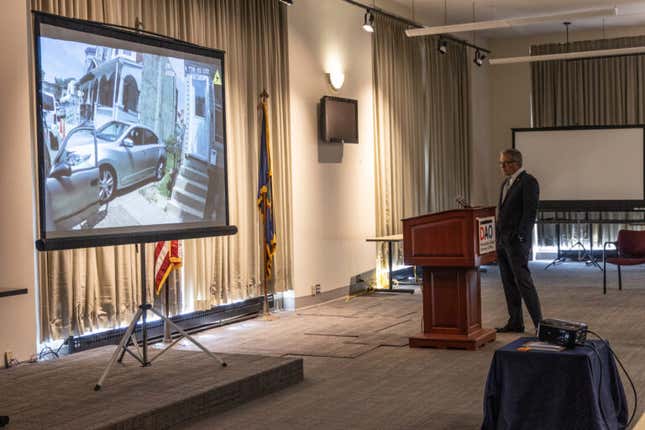 Mark Dial, the Philadelphia cop who shot a man to death while he was sitting in his car on Aug. 14, surrendered to authorities Friday on murder charges. In addition, Dial was also charged with voluntary manslaughter, simple assault, aggravated assault, reckless endangerment of another person and official oppression.
Courtney B. Vance in Heist 88 Is Our Black TV Pick of the Week
Dial was arraigned and court documents reveal 10% of $500,000 bail was posted. During a press conference, Philadelphia District Attorney Larry Krasner showed unedited body camera footage from the fatal incident. At first, police claimed that Irizarry was outside the car and was killed after he lunged at authorities with a knife.
Then the story changed two days later and the department said that Irizarry was shot while still inside his car. The footage shows Dial exiting his cruiser and going to Irizarry's car with his gun drawn. "I will f***ing shoot you," he says. Dial then starts firing into the front driver's seat where Irizarry was sitting. Dial fired six shots "at close range," Krasner said.
Dial is also seen in the video pulling Irizarry—who is covered in blood—out of the car and carrying him to a police cruiser with the help of a second officer. Krasner also stated it was important "to let people see what happened on a sunny Street in Philadelphia in a public place and what was done by law enforcement officers who work for the taxpayer."
The District Attorney continued: "We try our very best to be fair and be even-handed but we will not cover up for power." Dial was previously suspended for 30 days. In addition, Danielle Outlaw—the city's police commissioner who recently resigned—said she planned on firing the Dial at the end of the suspension.