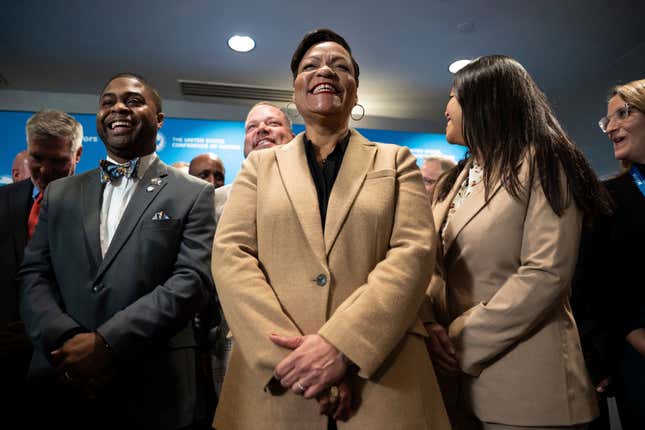 The Louisiana Secretary of State's office and New Orleans residents have created a petition to remove Mayor LaToya Cantrell from office. However, within the 10 boxes of signatures they produced, counter organizers claim 30,000 of those names are of people who are either dead or no longer residents within the parish, per FOX 8 Live.

The city's spiking crime rate and poor street maintenance are the base argument to the residents' push to trigger a recall election, according to Daily Advertiser. Last year, the Metropolitan Crime Commission named New Orleans the murder capital of the United States. In 2022, homicides were up by 46 percent compared to 2021 and 141 percent compared to 2019, the agency said. Organizer Eileen Carter told NBC News other factors such as trash in the streets and faulty light fixtures contributed to the push to give Cantrell the boot.
Is it really that? Or do these organizers just hate to see a Black woman in power? Cantrell's supporters called their bluff in a lawsuit in February citing voter fraud in the collection of signatures.
Read more from FOX 8 Live:
Recall organizers are maintaining that the SOS and Registrar should regularly inspect parish voter lists. In a lawsuit filed earlier this month, NoLaToYa organizers claim the Orleans Parish voter list contains over 30,000 names of people who have moved out of the parish or died. Removing those names from the lists would lower the number of signatures needed to trigger a recall election, attorneys argue.

"These people aren't here. These dead people can't sign the petition and these people who moved out of state cannot sign the petition either," NoLaToya attorney Laura Cannizzaro Rodrigue told Fox 8. "So we should only be required to get 20% of people who are actually active voters in Orleans Parish."
If these votes are fraudulent, the anti-LaToya group will have to fight to replace those signatures to have a chance at triggering a recall election. For now, they are asking a judge to lower the threshold of required signatures, Daily Advertiser. The signatures obtained so far have been hidden from the public by the organizers.
Regarding the allegations brought against the mayor, Cantrell created a neighborhood violent crime task force in January and signed off on new contracts to improve garbage collection, per NBC. Though, her administration told USA TODAY services slowed due staffing shortages following the pandemic and Hurricane Ida.
For that reason, residents believe she hasn't done her job well.
Read more from NBC News:
In a 2022 quality of life survey for Orleans and Jefferson parishes conducted by the University of New Orleans, 31% of city residents said they approved of the job Cantrell was doing, while 62% said they were unhappy with her performance. The survey found that crime had "a profound effect on the overall quality of life in Orleans" and that residents were "very dissatisfied with the quality of life in the city and say the city has become a worse place to live in the past five years."