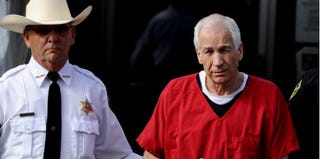 Penn State will pay 26 sexual-abuse victims of Jerry Sandusky, the former assistant football coach, approximately $59.7 million for an end to their claims against the university, the New York Times reports.
The settlement is "another step forward in the healing process for those hurt by Mr. Sandusky, and another step forward for Penn State," said Rodney A. Erickson, the president of the university, the Times reports. "We cannot undo what has been done, but we can and must do everything possible to learn from this and ensure it never happens again at Penn State."
Read more at the New York Times. 
Like The Root on Facebook. Follow us on Twitter.