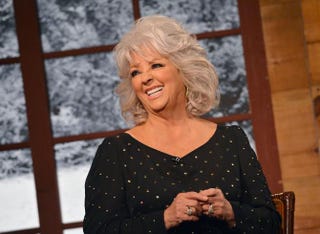 Surprise, y'all!
Paula Deen is not done yet. The celebrity chef who lost her culinary crown after she admitted to using racist terms is now intent on creating a new cooking empire,  CNN Money reports.
Deen has reportedly created a new company, Paula Deen Ventures, which will include restaurants, cruises, cookbooks, cookware and other merchandise that focuses on her renowned Southern-style cuisine.
According to CNN, Deen will be partnering with Najafi Media, a Phoenix-based company specializing in consumer distribution. The founder and CEO of the company made a statement on Wednesday, saying that he has "a deep respect for the hard work, unique content and quality products which Paula has built around her brand."
In June of last year, Deen's culinary kingdom came tumbling down when sponsor after sponsor dropped her after she admitted while testifying during a racial-discrimination lawsuit that she had once said the n-word to describe a black man.
Read more at CNN Money.