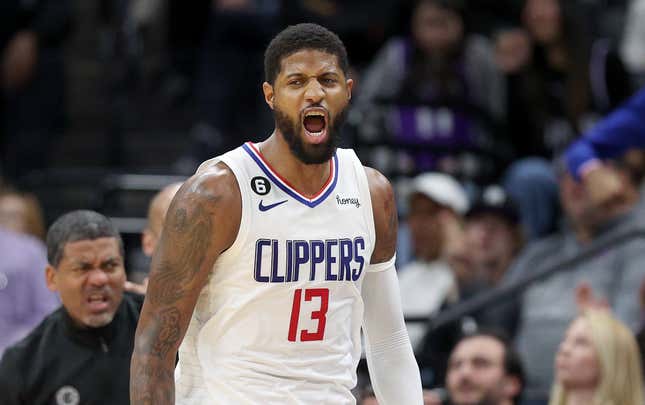 Updated on 03/22/2023 at 4:25 p.m. ET:
The Los Angeles Clippers can breathe a sigh of relief. According to ESPN, the team announced on Wednesday that after landing awkwardly Tuesday night, he will miss "at least the next two weeks." George's status will be reevaluated in two or three weeks.
White Men Can't Jump Stars Teyana Taylor & Sinqua Walls Play "My Favorite Things"
Though the timing isn't good, this is still positive news for the Clippers. If the team manages to make the postseason, George might be available to return during the playoffs. Now they just have to stay in the hunt until the end of the regular season.
See original story below:
That loud gasp you heard on Tuesday night came from Los Angeles Clippers fans as All-Star forward Paul George fell to the court after suffering a knee injury. During the fourth quarter of the game against the Oklahoma City Thunder, George went up for a rebound, where it appears his knee slammed into Thunder guard Luguentz Dort's knee. The 2023 all-star landed awkwardly and collapsed to the court. He was helped to the locker room, and later left Crypto.com Arena on a cart.

Per NBC Sports, after the game, Clippers head coach Ty Lue said George was "still being evaluated and had no update on his status." He is scheduled to undergo more tests on Wednesday. Clippers star Kawhi Leonard commented on his teammate's injury in his post-game press conference, noting that he didn't realize how serious things were at the time.
"I haven't spoken to him yet," Leonard said. "And I didn't see the play. I thought he just got hit in the face at the time and stayed down for a while."
The Clippers are currently in fifth place in the Western Conference standings, but that doesn't mean their playoff spot is guaranteed. In the hotly contested Western Conference, only a few games separate the No. 4 from No. 12 seed. All it takes for things to get flipped around is for a couple of teams to go on a winning streak while another hits a slump. If George's injury is serious, and he's out for an extended period—or the rest of the season—the Clippers' playoff hopes left the arena on that cart with him.
"We got a group of guys that still want to win, that like to play basketball, so we'll see what happens," Leonard said when asked about how the team will manage the rest of the season if George is out for the year.
If there's any good news in this for the Clippers, it's that they're in the middle of a home stand. They're set to host the Thunder on March 23, the New Orleans Pelicans on March 25 and the Chicago Bulls on March 27.