"It's the young-and-hip Oscars," announced co-host Anne Hathaway at the 83rd Academy Awards on Sunday in Hollywood. Audiences were invited to spend the evening with Hathaway, co-host James Franco and "Oscar," not The Oscars. It was casual — if casual is defined by zillion-dollar gowns and million-watt smiles. Over the last few weeks, much has been made of how young and "snarky" this year's hosts were supposed to be. Nominees' moms were tweeting.
Gone, allegedly, are the days of penguin suits, practiced one-liners and predictable hosts like Billy Crystal (who showed up about a third of the way through the show). "The producers asked me to tell you that we're running a little long," joked Crystal, who has hosted Hollywood's biggest night eight times.
In the end, however, no matter how young the hosts (Hathaway is 28 and Franco is 32), it can't change the fact that the Oscars presentation is an ancient institution. No matter how many platforms on which the nearly century-old show streams live, it still comes down to three hours of self-congratulating. Awards are handed out, speeches made, dresses scrutinized and commentary ensues. Those givens won't change, no matter how many "screens" — television, laptop, iPad or iPhone — the show is watched on.
Of Hathaway and Franco, Hugh Jackman said, "I feel a little nervous for them now." Jackman hosted the Academy Awards in 2009 and enlisted Hathaway's help during his opening number. Her amazing voice added to his musical-theater montage, which spoofed-slash-summarized the biggest pictures of 2009. Hathaway was a "host in training" back then.
Two years later, the star of The Devil Wears Prada stepped into her own. Hathaway was funny when she needed to be (always) and paid meta-tribute to hers and Franco's roles as two of the youngest hosts in Oscar history. "You look very appealing to a younger demographic as well," said Hathaway, when her co-host complimented her gown.
G/O Media may get a commission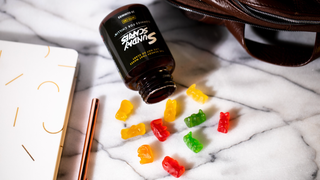 10mg CBD Gummies (22-Count)
Despite showing up dressed in drag as Marilyn Monroe at one point, Franco seemed a bit uncomfortable in his role as Generation X's reason to watch three hours of the totally predictable awards. His funniest joke hinged on the double entendres in the titles of Winter's Bone and How to Train Your Dragon. "He needs to have a shot of Patrón or something," suggested a friend of mine during the show. Fortunately, Franco didn't decide to do anything that reckless. Instead, he played the straight man to Hathaway's hilarious ingenue.
To continue the "young and hip" theme, legends like Tom Hanks, Kirk Douglas and Helen Mirren introduced their younger counterparts. "You're much more beautiful than you were in The Fighter," said Kirk Douglas, when handing over the golden man to Melissa Leo, who won for best supporting actress. When Leo, whose speech was partially censored because of interesting language, walked offstage arm in arm with Douglas, the cinematic elder statesman let his hands wander a bit close to Leo's boobage region. Being a dirty old man, or just playing one on an awards show, seemed to be Douglas' right as an actor from the tail end of Hollywood's golden era. 
The actual actors and films that won didn't surprise in the least. Of course, Natalie Portman won in the best-actress category for her frighteningly fragile ingenue in the ballet thriller Black Swan. Colin Firth won best actor for his leading role as the stuttering British sovereign in The King's Speech.
The King's Speech also won best picture, reversing what some thought was a new canon of "younger" award-winning films (like the night's hosts), as in The Social Network, which captured the origins of a generation's lack of genuine interaction. (The rest of the winners are listed at Oscars.org.)
"No African-American nominees? If you're black and want to make it in Hollywood this year, you better be a swan," tweeted comedian Bill Maher before the show even started. According to some, black actors were robbed of their right to the naked golden man holding a sword.
"I think we need to make more films. I think we need to make our own films," said actor Anthony Mackie  when asked about the almost complete lack of African-American faces on the Oscar nominees list (except for True Grit's multiracial Hailee Steinfeld).
"To be honest, I think the barriers have been broken down. I think right now we're being kind of lazy on our game," explained Mackie in a recent interview. He went on to say that there are enough black directors, writers, actors and people with distribution and production deals to make more black films. Problem is, too many are "enjoying that L.A. life." Mackie stars in The Adjustment Bureau, which opens next Friday. His last big film, The Hurt Locker, won best picture at the Oscars a year ago.
Mackie was not nominated this year for his starring role in Night Catches Us, a period drama about "retired" black panthers in 1970s Philadelphia. The film was written and directed by Tanya Hamilton, an African-American woman.
"There's no reason we can't tell the stories we want to tell and portray ourselves in the way we want to be portrayed," Mackie said.
Helena Andrews is a regular contributor to The Root and author of Bitch Is the New Black, a memoir in essays. Follow her on Twitter.
Helena Andrews is a contributing editor at The Root and author of Bitch Is the New Black, a memoir in essays. Follow her on Twitter.