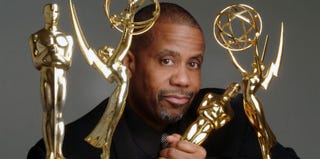 As we gear up for the 2013 Academy Awards, airing Feb. 24, The Root is speaking with black Oscar winners and nominees — past and present — about the prestigious honor.
 (The Root) — Seeing Quincy Jones' name listed as a composer for the 1967 film In the Heat of the Night forever changed Russell Williams II's world. "I didn't think anyone with a permanent tan was behind the camera," he told The Root. The then-15-year-old, who never considered a film career, had an epiphany: He didn't have to be in front of the camera in order to be a part of the movie business. And it's good that things happened this way, because Williams — a voting member of the academy — has won two Academy Awards for sound mixing and knows a lot about the industry.
Williams, who has a news and documentary background, first came to Hollywood in 1979. He worked on television shows, but his first big break came with Field of Dreams, which was followed by Glory and then Dances With Wolves. In 1990 and 1991, he won Oscars for best sound for Glory and Dances With Wolves. Williams and his mentor Willie D. Burton (Bird, Dreamgirls) are the only African Americans to be nominated and win Oscars for best sound.   
In 2002, while still hot in Hollywood, Williams abandoned Los Angeles' sunny weather for his native Washington, D.C., to care for his ailing father and work as Distinguished Artist-in-Residence at his alma mater, American University, where he's teaching a new crop of future filmmakers and documentarians.
Williams, also a two-time Primetime Emmy winner, took time between classes to discuss with The Root how winning Oscars changed his career, why there aren't more "positive" black movies and the purpose the Oscars serve for black nominees.  
The Root: What do you think of the sentiment that African Americans don't need awards shows like the Oscars, since there are options like the NAACP Image Awards?
Russell Williams II: Well, that's true, if you're an actor … I wouldn't get an NAACP Image Award because they don't have the technical categories. I have gotten awards from African-American groups — don't get me wrong. But for some reason, someone like myself or Willie Burton or some of these people who are the real pioneers behind the cameras, apparently are not good enough to get an Image Award. That's not the image the NAACP wants to proffer. And I think that's precisely the wrong message.
We've never had a drought of talented people in front of the camera or behind the mic. But the longevity in this industry is on the business side and on the creative side. Especially now, with all of these kids playing with computers, if you go see a movie like Life of Pi, that will show you just what the future's going to look like in terms of computer work. Who's preparing these younger people to look at this as a possible career path and where you have to go to get the training to do that? Being in front of the camera isn't the only way to be in the business.
TR: You won back-to-back Oscars for Glory and Dances With Wolves, becoming the first African American to win multiple Oscars. What was it like for you the second time around?
RW: I was much calmer the second year. And I was the last person to think I was going to win a second Oscar. Now, everybody who knew me, when they heard that I was nominated again, said, "Well, you're going to win." And I said, "Nah, I don't think that's going to happen two years in a row."
The night before the Oscars, the black Hollywood folks attended the Tree of Life Awards, a black-tie dinner that the Friends of the Black Oscar Nominees put on, and Maya Angelou was there. Now, I did an interview with her when I was just a radio jock in undergrad at American U [and] her book Gather Together in My Name came out.
And strangely enough, in that interview, she said she was so disappointed with some young people because they had so many more opportunities coming in the door and did so little with them. After the interview aired, I would listen to that portion of the tape over and over again, and I would get pumped up and get my game face on.
Cut to 1991 at the party, and this is the first time that I've seen Maya Angelou since that interview. That was my first sign that I was going to win a second Oscar. And it didn't hurt that Denzel, who was kind of the emcee that night, said as he presented me with the Tree of Life award, "I'll see you tomorrow night onstage." And I said, "OK, brother, from your lips to God's ears."
He wasn't nominated that year but was a presenter. At the end of the Oscars, on the way to the Governors Ball, a reporter stopped Denzel to talk, and they didn't know me from a can of paint. And just to show you how unselfish Denzel was, he pulled me over to make sure that the viewing public knew about my record as the first African American to win multiple Oscars. And I thought that was very classy.
TR: How did becoming a two-time Oscar winner change your career?
RW: By the time the second one came along, it was like, "Well, maybe this wasn't a fluke, and maybe this guy is really hot." And I know that actresses generally get this all of the time, but it was one of the few times where I started getting courted to do projects. In other words, people would send scripts to see whether I wanted to work on their project. So that was really nice. It was still a balance between making sure I had a certain amount of white-directed projects on my résumé and black-directed projects, because you don't want to look like you only do one type of project.
I used to tell my agent, "Look, tell that person that I record voices. A microphone doesn't know what color these people are." So that's the reputation I wanted. I didn't want a reputation of, he's a black mixer, and he only works on black projects. No, I work on projects. You want to be thought of as the top; you don't want to be thought of as the top black person. Because your reputation is really all you have, period. So if someone gets that sullied, or your sully it yourself, it may take a long, long time before someone takes a chance on you again.
TR: People often complain that there's a dearth of quality black films.
RW: When you do hear the standard cry for more positive images from black filmmakers or even from the industry at large on the big screen, I always point out from the business side that very few of those movies made any money. Like Glory has certainly made its money back over these years, but it didn't make its money back when it was in theatrical release.
From a business model, especially if you're not putting up your money, it's hard to expect the majors or even major independents to continue to go to that well if the African-American audience that is now "more sophisticated" doesn't support these [positive] movies.
I'm not saying it has to do Titanic money, but it really has to do pretty well at the box office to convince anybody else that it's a sound business decision. They don't call it show love; it's show business.
A lot of independent white films don't make money at the box office, either. But whose money is it? The [African-American] audience — and it's probably a good thing — is no longer a monolith where we just go in lockstep [to the movies] just because it's a black face or a black director. We're as fickle as everybody else.
Previously in the Black Academy Awards Series: 'Dreamgirls' Songwriter Talks Oscars, MJ.
Aisha I. Jefferson is a frequent contributor to The Root. You can follow her on Twitter or visit her at aishaiman.com.