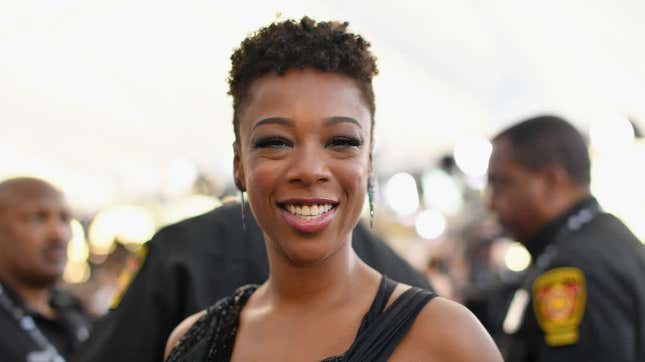 In a case of life imitating art, groundbreaking fan favorite Orange Is the New Black is looking to make an impact on criminal-justice reform in the real world with the launch of the Poussey Washington Fund.
American Ninja Warrior: Season 15 Is Our TV Pick of The Week
Named for the character Emmy winner Samira Wiley played in the long-running jailhouse series on Netflix, the fund aims to support eight nonprofit advocacy groups that focus on criminal-justice reform, protecting immigrants' rights, ending mass incarceration and supporting women who have been affected by it.
As fans of the show may recall, in season 4, Wiley's Poussey Washington dies a tragic death when she is suffocated by a prison guard during what had begun as a peaceful demonstration by prisoners protesting a guard's treatment of them.
But as the show's executives note on the crowdfunding page for the new initiative:
"Poussey Washington may have been a fictional character created for television, but her life's story and devastating fate is all too real for many women in this country."
OITNB creator and writer Jenji Kohan and executive producer Tara Herrmann announced news of the initiative Friday by way of a video in which fans of the show were invited to discuss how the series had impacted their lives — before each received a big surprise:

The first episode of OITNB's seventh and final season premieres Friday on Netflix, with a fictional version of the "Poussey Washington Fund" to be featured in an episode during the upcoming season, show executives shared.

In it, Taystee (played by Danielle Brooks) works to offer micro-loans to women getting out of prison.
The newly launched initiative of the same name is a legacy of a different kind, making a real-life difference by giving fans a chance to support the following nonprofits: A New Way of Life: Reentry Project, Anti Recidivism Coalition, College & Community Fellowship, Freedom for Immigrants, Immigrant Defenders Law Center, the National Council for Incarcerated and Formerly Incarcerated Women and Girls, the unPrison Project, and the Women's Prison Association.
"Through the Poussey Washington Fund, our characters can live on and continue to make an impact after the show has come to an end," Kohan said. "Taystee recognized an opportunity to make a difference for her fellow inmates, and we saw no reason why we couldn't launch our own initiative to have an effect in the real world."