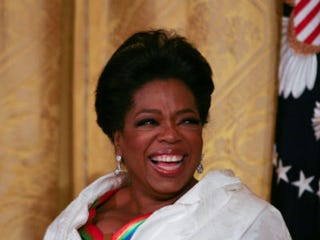 When you've been making fans lose their minds over your favorite things for years,  launched a brand new network and flown a studioful of ecstatic guests to Australia, how do you keep up the excitement during your talk show's final season? Good old-fashioned, juicy personal drama always works.
Previews for today's episode of The Oprah Winfrey Show tempted viewers with the promise of a huge family secret to be revealed. And the host didn't disappoint. No, it's not that she and longtime boyfriend Steadman are having triplets through in vitro fertilization (and no, she and Gayle aren't lesbians!). The Queen of Talk revealed that she has a recently discovered half sister named Patricia, who was born when Oprah was 9 years old and living with her dad. She says she never even knew that her mom, Vernita Lee, was pregnant.
On today's episode, viewers get an inside look at Oprah and Steadman's first meeting with the new relative. It remains to be seen how the relationship will develop (or whether Patricia will get a program on the new Oprah Winfrey Network), but this will no doubt be one of the heartwarming — and juicy — highlights of this season
Read more at The Huffington Post.
In other news: What Story Will National Black History Museum Tell?