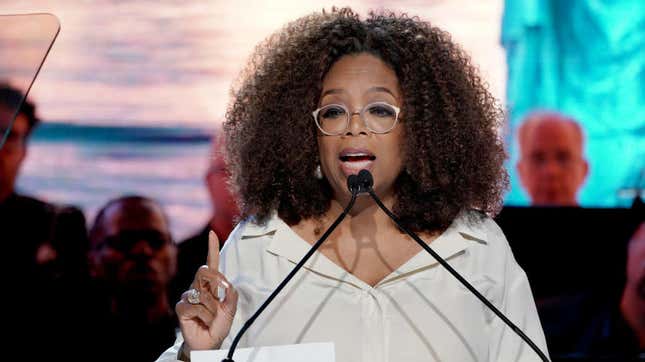 Tackling A Black Maternal Health Crisis & Embracing Reproductive Justice | The Root Institute
It's not easy being a billionaire gift-giver after Robert F. Smith dropped about $40 million on Morehouse's Class of 2019, but Oprah's been out here doing her thing. Students at West Side High School in Newark, N.J., were shocked on Friday when Oprah Winfrey announced a $500,000 donation to their school.
According to CBS New York, Oprah saw an earlier CBS News report about the school's Principal Akbar Cook, who went above and beyond to keep students off the streets, out of trouble and fed. He also found a way to help stop bullying.
Cook launched an after-school and summer program, "Lights On," which extends the school's hours on Friday nights and also provides a place for students to gather three nights a week during summers. From 6 to 11 p.m., students can use the gym, dance and hang out. They can even get a free meal from local nonprofit groups, according to HuffPost. And when Cook found out that some kids had come to school in dirty clothes and been bullied and were now skipping classes, he set up a laundry room at West Side High for students to use during Lights On.
From HuffPost:
"I saw what your great principal is doing," Winfrey told students and staff packed into the school's gymnasium. "And I thought, what can I do?"

"So I'm going to leave here tonight and leave you with a half a million dollars," she continued, prompting the crowd to erupt in applause.
Winfrey also gave each student a $50 ShopRite gift card and threw a pizza party at the school—featuring her O, That's Good! line of pizza, of course.
Winfrey applauded Cook for his approach to helping students succeed, according to the Star-Ledger: "Everybody always talks about the grades. You can't start to talk about the grades unless they feel safe, unless they feel seen, unless they feel respected, unless they feel valued."
Correction: Sept. 16, 2019, 8:42 p.m. ET: This story has been edited to remove unattributed text and to add fuller sourcing.