In "We can't believe we missed this" news: Blame it on the holidays, but our thoughts are definitely indoors these days. And as we blessedly begin to wind down during the holiday season (in favor of the actual holidays), our biggest fashion aspirations involve staying stylish in "sweater weather."

Beyoncé's Feminist Anthem "Run the World (Girls)" A Decade Later
But the plunging temps didn't stop a group of body-positive models from making a statement in New York City's Times Square on Saturday, Dec. 2—when temperatures ranged from a balmy 39 to 48 degrees—to stage a guerrilla-style lingerie show titled #TheREALCatwalk.
#TheREALCatwalk was the brainchild of "body-positivity activist" and model KhrystyAna, who rallied friends and fellow bodies of all sizes, body types, races and orientations to strip down and strut the streets of New York to demonstrate that every body is beautiful.
G/O Media may get a commission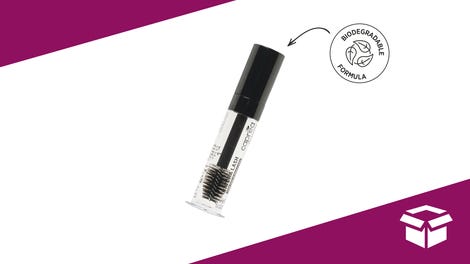 It's $8
20% Off Lash + Eyebrow Serum 2.0 - Caprea Beauty
The gathering took place mere days after the 2017 Victoria's Secret Fashion Show in Shanghai, an event hailed for being the most ethnically diverse in the brand's history, but is still devoid of any fuller-figured representation among its 50-plus models.
The internationally televised lingerie show strut a chord with KhrystyAna, who wrote on her Instagram while encouraging her followers to attend and join:
This week the world has witnessed another Victoria's Secret fashion show reinforcing very specific beauty standards upon people. Many women feel very discouraged about their bodies and faces after watching the show, as if their self-belittling button is getting pushed again and again.
So, at approximately 2 p.m. on a frigid December day, KhrystyAna and Co. took to the Times Square median to make a statement of their own. The response? Overwhelmingly positive, with a cheering crowd quickly gathering to watch and an outpouring of praise on Instagram in support of the event and its organizer:

"How beautiful to see women of all shapes, sizes, and colors."

"Thank you so much! This was such a beautiful experience! Thank you for letting me be a part of it!

"We need more women like you: makers but (and most important) supportive to each other. You are an inspiration. Keep going!"
KhrystyAna promises this won't be the last we'll see of #TheREALCatwalk. But in the meantime, you can catch her on Cycle 24 of America's Next Top Model, debuting in January 2018.