When we heard Virgil Abloh and Serena Williams were collaborating on Williams' 2018 U.S. Open wardrobe, we were understandably intrigued. Two black phenoms at the top of their respective games are exciting—especially when supported by an athletic apparel juggernaut like Nike.
Now, we get our first look at the resulting "Queen" collection in motion, as Williams and Abloh made an appearance earlier this week at Westside Tennis Club in Queens, N.Y., to launch the new line and hit a few balls across the net with some aspiring young tennis stars.
As reported by Refinery29 on Monday, Williams and Abloh joined writer and moderator Kimberly Drew (better known on the 'gram as @MuseumMammy) for a panel on the newest offering from Nike x Off-White, and how Queen of the Court Williams inspired the collection.
"I don't think fashion is all status symbols, it should represent people and tell a story," Abloh told the audience. It may seem ironic, coming from the designer whose often on-the-nose fashion is a status symbol that has catapulted him and his label Off-White to fame. But while designing for Serena, Abloh allowed her story to take the lead.
G/O Media may get a commission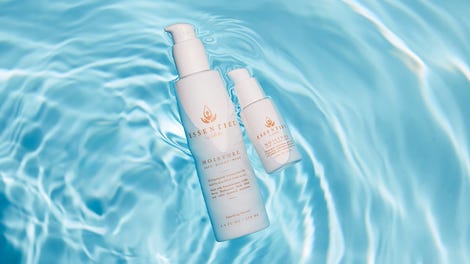 20% off
Essentiel by Adele
"With Serena, we have one of our generation's most powerful, inspiring athletes as the muse," Abloh said in a prior press release. "I was trying to embody her spirit and bring something compelling and fresh to tennis."
The experience also proved compelling and fresh for Abloh, who worked with the demands of a tennis dress silhouette and function for the first time, assisted by a custom Nike dress form based on Williams' body.
For Williams, the game is all about fun and versatility, which makes it no surprise that the resulting Queen collection includes both day and night versions of Williams' flirty, ballet-inspired dress, as well as a coordinating bomber jacket, bag and pair of NikeCourt Flare 2s, as well as limited editions of The 10: Nike Air Max 97 and The 10: Nike Blazer Mid SW—some of which will be gifted to fellow queens (and Williams and Abloh pals) Beyoncé, Michelle Obama, Oprah Winfrey and Naomi Campbell.
But our favorite queens were the young tennis champs on the court on Monday, wearing "Queen" t-shirts as they tried out their swings with their idol and received some sage words of advice:
"Whatever you do, have fun—that is so important," Williams said. "But also, however far you get or whatever your goal is, the most important thing is to always be humble ... because humility is greatness—and that's true greatness."
However she fares at this year's Open, Williams will remain our G.O.A.T. As for design superstar Abloh? When it comes to tennis, he might want to stick to his day job.