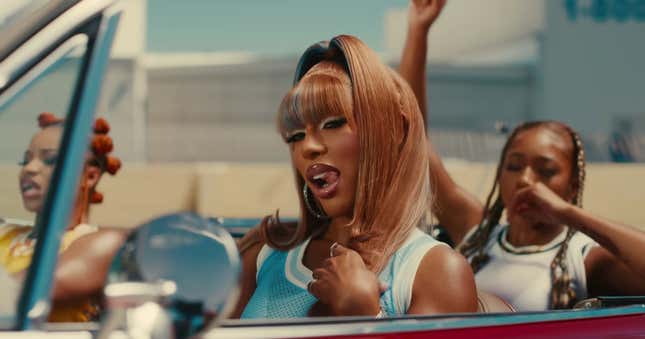 I know Juvenile said that Cash Money Records was taking over for the 99 and the 2000, but in Victoria Monét's latest music video for her single "On My Mama," it looks like she's giving them all a run for their money.
Comedian London Hughes Talks New Book, Parents Watching Her Very Sexual Comedy, & Beyoncé
Released at midnight on Tuesday, the video serves a hefty, heaping platter of 2000s vibes for a song that samples the popular 2009 hit "I Look Good" by Chalie Boy. The song had already been climbing the music charts thanks to its infectious chorus ("I put that on my mama, on my hood/ I look fly, I look good/ You can't touch my bag, wish you could/ I look fly, I look too good), but now—thanks to the top-notch visuals—it's a feast for the eyes and one that I personally, can't wait to dig into.
Aesthetics and Outfits
The whole premise of the video seems to be centered around some sort of function: a kickback at the house at the beginning; a gathering of hot cars and hot girls; and kicking it at the corner store and carwash combo. However, because we're in the South (a.k.a. my native stomping grounds) and we're taking it back to the early 2000s, we're seeing folks decked out in tall tees, oversized jeans and letterman jackets, Girbaud jeans, jersey dresses, gold chains, bamboo earrings, durags, airbrushed tees, cropped jean jackets, white Air Force 1s and more.
Monét herself comes in red hot in an ensemble that pays homage to "Goodies"/"Get Up"-era Ciara for the first verse before she transitions into a blue jersey dress—a fun reference to R&B singer Mya's 2000s hit, "Best of Me, Part 2." Honestly, all of the aforementioned things would have been enough to sell me on it, but things just keep getting better and better.
Choreography
First things first: I have to give a HUGE shoutout to Sean Bankhead, the lead choreographer of this video. If you don't know Bankhead by name, then undoubtedly know his moves. He first gained prominence back in 2007, when he landed the gig as the love interest in Tiffany Evans' breakout hit "Promise Ring." Since then, he's gone on to work with big names such as Megan Thee Stallion ("Her"), Cardi B ( "Up," which, personally, is some choreography I will still hit out in public no matter where I hear it. "A BOOKIE, BOOKIE BOO" anyone?), Normani ("Wild Side") and more.
But what makes Bankhead's choreography soooooo damn good in the "On My Mama" video is that he effortlessly combined a myriad of popular 2000s dance moves and social media references all in one. From the chicken head, the heel toe, and South Dallas Swag, to the walk-it-out, Soulja Boy "super soak," Black women "In their bag" and more—the video brings back a sense of nostalgia and good vibes that feel just as palatable and potent as if no time had passed. (On a personal note, these moves remind me of middle school days in the South with my friends where we used to pretend we were two dance teams battling each other out during recess. To this day, I'm pretty sure that's the reason why my knees are in short supply of vibranium at my big age now.)
The Song Itself
Last but certainly not least, we have to get into the song itself and the sample. "I Look Good" by Chalie Boy was one of those instantly loved songs that received radio airplay and a frequent replay on 106 and Park back then. It's nothing but a song full of affirmations if we really look at it and for Monét, specifically, "On My Mama" is an extension of that:
"'On My Mama' is the soundtrack to positive affirmations. I wrote it postpartum when I wasn't feeling my best, but spoke to how I wanted to feel. Singing the lyrics about yourself will change your frequency, and elevate a positive mental state. The words speak not only to physical features, but to a feeling too because I believe when you feel good you look even better! Give yourself the words you need to hear because it's true, you look good! There's no one like you and that's on ya mama. Enjoy being yourself witcha fine ass!"
I mean, what else is there to say after that? If you haven't streamed "On My Mama," yet—do yourself a favor and get with it. And get ready for Monét's upcoming album Jaguar II, which features contributions from Lucky Daye, Earth, Wind, and Fire, KAYTRANADA, and more.