Les Moonves, the former chairman and chief executive of CBS, is in deep shit.
CBS' board of directors hired a team of outside lawyers to look into the deluge of sexual misconduct allegations levied against him. And as the New York Times found out, the results aren't pretty.
Their findings— a 21,666-word draft dated Nov. 27—is filled to the brim with all kinds of shocking accounts detailing the abhorrent behavior of Moonves and others at CBS.
After speaking with the disgraced executive four times over the course of their investigations, a final report will be presented to the CBS board next week.
Here are four of the alarming findings from their report, as uncovered by the New York Times:
Moonves had a CBS employee "on call" to perform oral sex
The outside lawyers learned from multiple sources that CBS had an employee "who was 'on call' to perform oral sex" on Moonves. "A number of employees were aware of this and believed that the woman was protected from discipline or termination as a result of it," read the report.
G/O Media may get a commission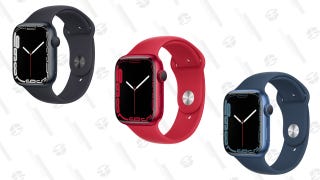 Up To $45 Off
Apple Watch Series 7
Though the report didn't identify the employee—who was never interviewed over the course of the investigation—Moonves admitted to "receiving oral sex from the woman, his subordinate" to the lawyers, though he vehemently denies their interactions were anything but consensual.
"He never put or kept someone on the payroll for the purpose of sex," Moonves' lawyer, Andrew J. Levander, said on Tuesday. "He has cooperated extensively and fully with investigators."
Moonves received 'transactional' oral sex  
In addition to consensual relationships and affairs, Moonves "received oral sex from at least 4 CBS employees under circumstances that sound transactional and improper to the extent that there was no hint of any relationship, romance, or reciprocity," according to the report.
While the lawyers weren't able to speak to any of the women in question, they were able to identify "such a pattern arguably constitutes willful misfeasance and violation of the company's sexual harassment policy."
A board member helped cover up an alleged sexual assault
Oscar-winning producer Arnold Kopelson was informed of an alleged sexual assault committed by Moonves prior to joining the CBS board in 2007. According to the victim, Dr. Anne Peters, the assault occurred in 1999.
Per the report, Peters warned Kopelson not to join the board, citing the alleged assault: "She recalls Kopelson responding that the incident had happened a long time ago and was trivial, and said, in effect, 'we all did that.'"
Before his death in October, Kopelson would go on to become one of Moonves' stanchest supporters. As evidenced by his refusal to publicly disclose the alleged 1999 assault despite Peters' pleas to do so as the #MeToo movement gained traction.
The report notes that "there is no evidence that Kopelson, whom we were unable to interview before he passed away, told anyone on the CBS Board about the incident, spoke to Moonves about it or otherwise did anything with the information."
However, in board meetings, Kopelson maintained his allegiance to Moonves. "I don't care if 30 more women come forward and allege this kind of stuff," Kopelson said as recently as this summer. "Les is our leader and it wouldn't change my opinion of him."
A secret resignation letter was drafted for Moonves
Gil Schwartz, who retired in November after serving as the head of communications at CBS for over 20 years, drafted a resignation letter for the chief executive that was never signed.
Schwartz learned of many of Moonves' sexual assault allegations in late 2017 and of the scenario involving Dr. Peters in August of this year, prior to it becoming public in an article by Vanity Fair.
Of particular note, TMZ reports that a $120 million severance package is at stake as result of the board's findings. If it's determined Moonves violated the terms of his employment agreement, they can nix that payment.

Moonves has also been accused of destroying evidence as it pertains to this investigation.