Southern universities get ready: Omarosa Manigault Newman, the woman with the soul the size of an acorn that's been smashed into pieces by a tractor, has signed with a speakers bureau ... because who didn't see this coming?

Seriously, did anyone not see Omarosa looking to cash in on her time in the White House? I predicted a book deal, but the year has just begun, so there's time. But unless her book is called, My Time in the Massa's House: The Story of a Black Woman Who Decided to Be a Slave, I don't want to read it. Omarosa should change her name to Omaro-tunist. OK, I'm done. 
According to TMZ, the former director of communications for the White House Office of Public Liaison—which is basically like being the assistant vice president of handling affairs in the Office of Diet Cokes for the Commander in Chief—has joined the elite roster at the American Program Bureau. Its client roster includes actual black people with souls, including Diddy, Kareem Abdul-Jabbar and Magic Johnson.
TMZ notes that Omarosa signed the deal Monday and is expected to ask for a whopping $50,000 per speech, depending on the venue. So get all your nickels together, universities that allowed Richard Spencer to speak, so that you can hear about Omarosa's exciting time in the White House organizing the president's Diet Cokes and rolling up copies of Forbes magazine for the allotted naughty time, which is usually between KFC-bucket-hat time and nappy time.

G/O Media may get a commission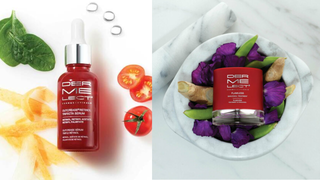 Save $19
Retinol Renewal Kit
Robert P. Walker, APB founder and CEO, told TMZ that the plan is to get the former presidential Diet Coke runner at least 10 appearances in the next three months, which would bring the former lone black female face in the White House an easy $500,000.
But get this: Walker actually believes that black people and women fuck with Omarosa. With a straight face, he told the news site that booking Omarosa shouldn't be too hard: "Since [February is] Black History Month and [March is] Women's History Month, I'm sure Omarosa will be in high demand, as she has always been."
Depending on whom you believe, Omarosa was either dragged out of the White House by her heels or walked out on her own last month, after the president's chief of staff, John Kelly, saw her holding a tray of Diet Cokes stacked in a pyramid and asked, "Whose mans is this?"
Read more at TMZ.