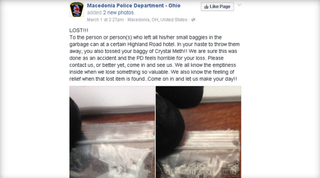 Northeast Ohio police are hoping to track down the unfortunate soul who left a bag of methamphetamine in a hotel-room trash can, CBS News reports, stating that they feel horrible for the owner's loss. 
The Macedonia Police Department posted the message to its Facebook page earlier this week, encouraging the owner to "contact us, or better yet, come in and see us," since "we all know the emptiness inside when we lose something so valuable."
"Come on in and let us make your day!!" the department quipped. 
A photograph accompanying the message shows a bag that a detective says contains a gram of high-grade crystal methamphetamine, worth somewhere around $160. Police have yet to identify the suspect in the case, who rented the room using a gift card. There were reportedly a number of empty bags in the room's trash can.

Read more at CBS News.