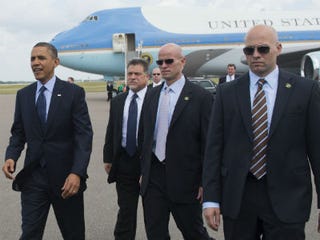 According to the Sydney Morning Herald, a dozen members of President Obama's Secret Service detail are under investigation for improper conduct while protecting the president, who is in Cartagena, Colombia, for the Summit of the Americas. The men have been accused of soliciting prostitutes:

Edwin Donovan, an agency spokesman, declined to disclose details about the alleged misconduct. Jon Adler, president of the Federal Law Enforcement Officers Association, said the accusations relate to at least one agent having involvement with prostitutes in Cartagena.
Mr. Donovan said the matter had been turned over to the agency's Office of Professional Responsibility, which serves as the agency's internal affairs unit.
"The Secret Service takes all allegations of misconduct seriously," Mr Donovan said. "These personnel changes will not affect the comprehensive security plan that has been prepared in advance of the President's trip."
Mr. Adler said the entire unit was recalled for the purposes of the investigation. The Secret Service "responded appropriately" and was "looking at a very serious allegation," he said, adding that the agency "needs to properly investigate and fairly ascertain the merits of the allegations."
Read more at the Sydney Morning Herald and the Washington Post.