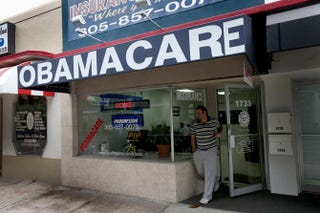 Approximately 3.3 million people have signed up for private health insurance coverage through the Obama marketplace since the beginning of October, according to the Obama administration, the New York Daily News reports.
Originally, the Congressional Budget Office had estimated about 7 million people would be signing up for the private coverage by the end of March, but in the latest predictions released last week, the numbers were at 6 million.
The delayed program, hampered by the problematic HealthCare.gov website, is expected to recover by 2017 with 24 million people predicted to be enrolled.
The good news is that the data, released on Wednesday, shows that young adult enrollees between the ages of 18 and 34 rose to 25 percent of the entire enrollment population.
According to the Daily News, the president is depending heavily on young adults signing up since they tend to counterbalance the higher risks from older and sicker enrollees.
Read more at the New York Daily News.