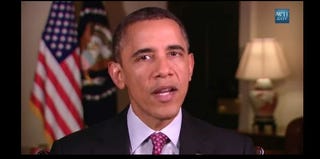 The White House on Tuesday released videotaped remarks of President Obama urging Kenyans to seize the upcoming elections as a historic opportunity to stand together as a nation for peace and progress, as well as for the rule of law.
The President has strong ties to the people of Kenya. From visiting his father's village to touring the country as a U.S. Senator, he has a deep and personal interest in seeing Kenya flourish.

Kenyans have made remarkable progress since the devastating violence that followed the elections five years ago. Lives and communities have been rebuilt, the economy has rebounded, and Kenyans have peacefully stood together to pass a historic constitution and advance important political reforms. While the international community has assisted these efforts, the Kenyan people have stood together to solidify the rule of law and put Kenya on a path to greater prosperity.

As Kenyans prepare for the March elections, President Obama urges the people of Kenya to put aside tribal and ethnic differences; to clearly reject intimidation and violence; to address electoral disputes through Kenya's courts, rather than on the streets; and to come together as a nation on the 50th anniversary of Kenyan independence.
Watch President Obama's remarks here:
Read more at WhiteHouse.gov.