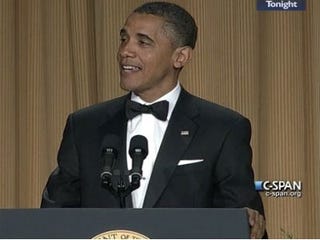 President Barack Obama rocked the mic at Saturday night's 98th annual White House Correspondents' Association Dinner in Washington, D.C.
Starting out with an offstage bit lampooning his hot-mic gaffe during the nuclear summit in South Korea, the president skewered recent media flaps, from the Secret Service scandal with prostitutes to lavish spending by the Government Services Administration. He even threw an elbow at Kim Kardashian, who was in the audience ("Why is she famous, anyway?"), and said that in his next term, instead of singing Al Green, he'd go for Young Jeezy.
But it was the president's parody of GOP presidential candidate Mitt Romney and his dog Seamus that stole the show. "I know everybody is predicting a nasty election, and thankfully, we've all agreed that families are off-limits," the president said. "Dogs, however, are apparently fair game."
See the video above and on C-SPAN.